Milton High School graduation to take place June 7th with pre-recorded speeches and drive-thru style ceremony
The following notification was sent to parents and guardians of Milton High School seniors on April 28th*:
Dear Parents/Guardians:
It is very difficult to put in words the challenges we have faced over the course of the past seven weeks and the sense of loss and disappointment many of our students feel; especially our seniors. Typically, at this point in the school year, our seniors are overwhelmed with excitement and anticipation for all of the culminating activities: Senior Awards, Music Awards, Spring Play, Boosters' Banquet, Prom, Senior Breakfast and of course, Graduation. This should be considered a celebratory time in their lives and yours! Despite the challenges we face with the school closure and social distancing, our goal is to do just that; make it a celebration to remember!
I understand some want us to consider a graduation ceremony in July or August however; with the uncertainty of the restrictions on social gatherings and many scheduled functions being canceled throughout the summer, we did not want to risk trying to have a later ceremony that main not happen. If we wait and still cannot gather in large crowds, I am afraid that we may lose the opportunity to properly acknowledge and honor all of our students. I say this because some of our students may be off to college, the military or other post secondary plans and they may not have the opportunity to attend a later ceremony. Furthermore, having the graduation on the original date and time brings a sense of normalcy and closure.
Therefore, after many discussions with various stakeholders, we have come up with a two-part graduation ceremony that will take place on Sunday, June 7th as originally scheduled. In order for this to happen, we have to employ very strict safety measures that are extremely important for all to adhere to. In addition to safety, a Milton High School Graduation is a dignified event and should be treated as such at all times.
Part I: National Anthem, Music Selection and Graduation Speeches:
The singing of the National Anthem, Music Selection and Graduation Speeches will be pre-recorded prior to Sunday, June 7th. The National Anthem, music selection and speeches will be shared with the entire Milton Public Schools' community on Sunday, June 7th at 12:30pm.

Part II: Graduation Caravan/Drive Thru
On Sunday, June 7, 2020, starting at 2:00pm, we will initiate a caravan/drive thru style Graduation Ceremony. Graduating Seniors and their families will travel, at staggered times, to Milton High School's campus entering from the Blue Hill Parkway ONLY. All vehicles will proceed up Gile Rd (from Blue Hills Pkwy) and enter the bus lane that is immediately in front of the school. Approximately 25-30 feet away from the main entrance, all cars will be asked to stop.
The graduating senior will report his/her name to the staff member standing on the curb and that students name will be called out. That senior's diploma will be retrieved, placed on the table in front of the podium and then the student will be instructed to walk up to the main entrance, stand on the red carpet and retrieve his/her diploma (see the attached pictures).
The student, wearing the tassel on the right side of the cap, will then shift his/her tassel from right to left and I will personally declare that student a Milton High School Graduate. The student will then face the photographer to take a picture. The photographer will be positioned directly across from the table where the senior retrieves his/her diploma.
Once the picture is taken, the senior will report back to his/her vehicle and they will proceed down Gile Road and exit the campus. Some of our faculty and staff members will be positioned along the bus lane and Gile road (standing 8 -10 ft apart) waving, cheering and possibly holding signs to acknowledge our graduating seniors as they exit the campus.
It is imperative that seniors DO NOT exit their vehicles at any time to attempt to hug or shake hands with any of the faculty and staff. This measure is put in place for the student's safety and for the safety of our staff.
Commencement route: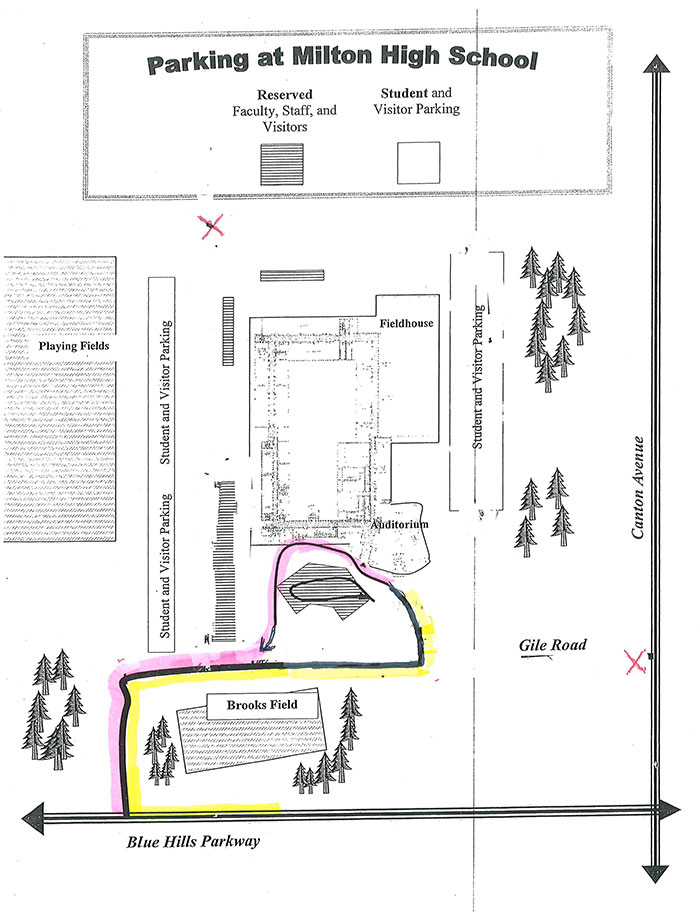 *some specifics have been removed for length.