Description
Political Advertising Opportunities
Please note these ads have a one month minimum purchase.
All ads are first-come, first-served.
Availability is not guaranteed. Inquire at [email protected]
You are encouraged to book quickly!

NEW! Meet the Candidates – Special Election newsletter
This is our MOST OPENED newsletter every year!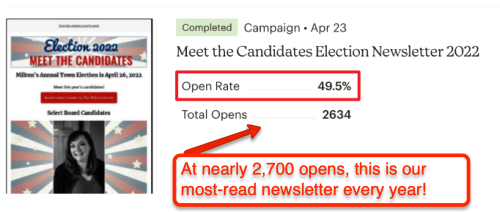 In this standalone newsletter, we will feature candidate political advertisements.
The newsletter will go out on Saturday, April 22, 2023.
This April 22nd Meet the Candidates newsletter will be:
Each newsletter ad includes:
Logo
Candidate name
Brief candidate introduction (limit 100 words)
Website and/or social media addresses
Phone number
Only $99!
Packages must be booked by midnight on Monday, April 17, 2023.
Top ad in The Milton Scene Daily newsletter:
Your political ad in the top spot on The Milton Scene Daily newsletter
The newsletter is sent every day to nearly 4,000 local subscribers
$799/month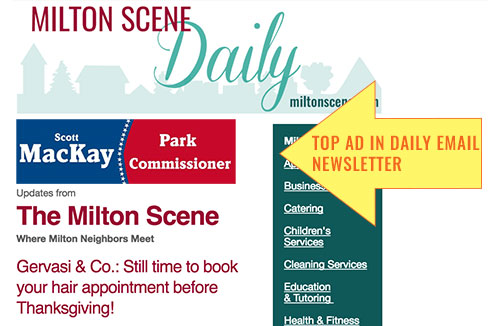 Website Top Sidebar ad on The Milton Scene: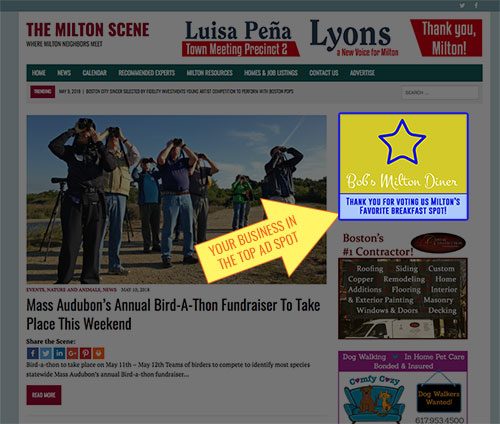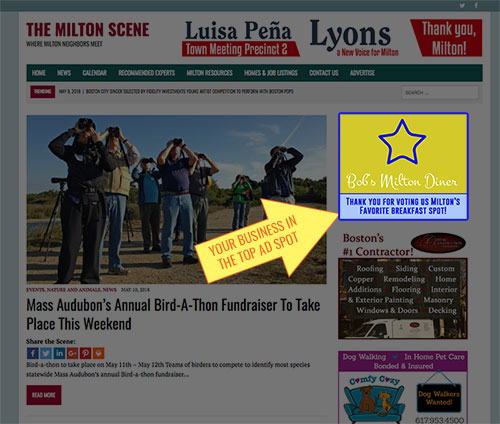 Shown on 99% of the Milton Scene website
Location: Top of all sidebar ads. Statistically, the best location on the website
This spot is shared with three other ads (shows 25% of the time)
1 month: $179
Website Sidebar ad on The Milton Scene: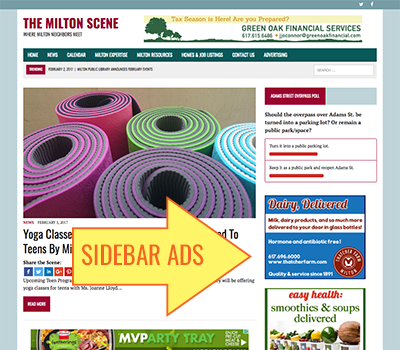 Shown on 99% of the Milton Scene website
Location: First come, first served spot on the sidebar
1 month: $169
Website Pop-Up ad on The Milton Scene: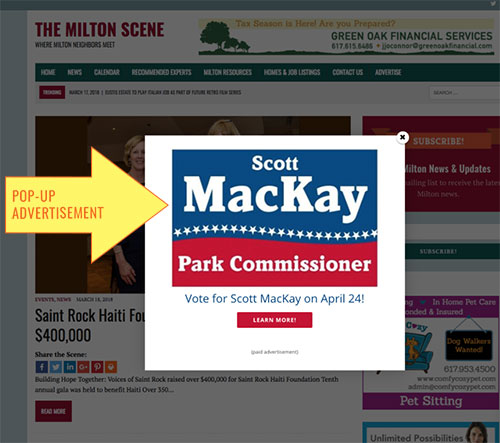 Display of ad on individual devices will vary. Ad will take place a maximum of one time per day per user.
Displays on all Milton Scene news stories for one month: $799
Political Sponsored Stories:
 Click here to see examples of Milton Scene Sponsored Stories.
Each Milton Scene Sponsored Story includes:
One promotional news story (you provide the content) on The Milton Scene, which gets over 50,000 hits every single month.
Inclusion of your news story one time in the daily email newsletter, sent daily to over 3,500 local subscribers.
Inclusion in the Milton Scene online calendar, if applicable.
Up to 3 images included per story. Additional images may be added for a fee.
One Sponsored Story: $249
FREE BONUS: Nine social media posts promoting the story, usually over a 2-3 week period:
Discount of 20% off given for purchases of three months or more of consecutive ads- or three or more Sponsored Stories.
Contact us to get this special offer and/or advertising availability.
You must supply your own ads in the required size(s).
Please inquire directly about ad design services.