Local boy scout seeks Milton Neighbors' help in crafting hand-welded gate and entrance
As part of his Boy Scouts Eagle Project, Milton High School student and Eagle Scout candidate, Nick Daly, is hand-welding a gate and trellis for the Cunningham Elementary School Outdoor Classroom.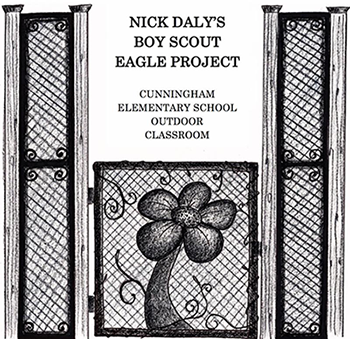 Nick initially learned to weld at Snow Farm in Williamsburg, MA, two years ago. Snow Farm is a two week art camp for high school students. Nick continued to attend Snow Farm for the past two summers and took woodworking, welding, glassblowing and flame working. In the summer of 2015, Nick worked an intern at Stonybrook Fine Arts in Jamaica Plain and further improved his welding skills while completing general intern responsibilities.
Nick is building a beautiful front gate and entrance for the Edgehill Road side of the garden. This new entrance will give the garden the visibility it needs to be sustainable for years to come. Nick is donating all of his time and considerable expertise to the project, but there are still materials expenses. As part of the Eagle Project process, Nick has to raise all of the funds necessary to construct and install the gate and trellis. He has reached out to family and friends to ask for donations, and has met his halfway mark.
How to help:
The Cunningham PTO is offering beautiful, engraved stepping stones to anyone who donates $100 to Nick's project. The stones will be prominently displayed in the garden and contributors will have 6 lines of text for their message (20 spaces per line). Milton residents are encouraged to chip in with another family, donate a stone in honor of a Cunningham teacher, or let their children write a special message — there lots of great options as the community supports Nick and the Cunningham DIG program.
Visit Nick's Eagle Project for more info. Checks can be made out to Troop 5 Eagle Fund and sent to the Milton Cunningham School care of the Cunningham PTO.
Nick will be constructing the project this summer at Stonybrook Fine Arts studio in Jamaica Plain and installing it in early Fall at Cunningham.