Holocaust Memorial window moved to new location in November
Congregation Beth Shalom of the Blue Hills successfully moved the synagogue's Holocaust Memorial stained glass window from its former location to its new home at 18 Shoolman Way in Milton.
The window was commissioned to noted stained-glass artist David Holleman by Temple Shalom of Milton to honor the memory of the six million Jews murdered by the Nazis in WWII, simply because they were Jewish. It was installed in the former synagogue at 180 Blue Hill Avenue, Milton, now occupied by Concord Baptist Church. The window was maintained there until Congregation Beth Shalom of the Blue Hills, which resulted from the merger of Temple Shalom, Temple Adas Shalom and Temple Beth El, both of Quincy, raised enough funds to move it to its new location.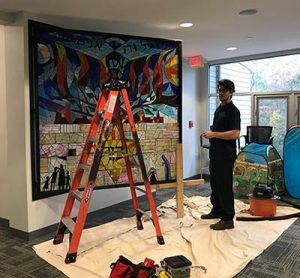 A site for the Holocaust Window was prepared in the new building, which was dedicated in May 2016. The window is now a centerpiece for Holocaust education to the greater community, as a way to promote understanding between Jews and those of other faiths, and as a way to ensure that the lessons of the Holocaust are not forgotten by future generations.
Congregation Beth Shalom of the Blue Hills is an egalitarian, multigenerational congregation that welcomes diversity, spirituality and community, and is involved in outreach, social justice, and interfaith work. It is located at 18 Shoolman Way (off Lodge Street) in Milton, Mass.
For more information on this success, visit the synagogue's website at www.BethShalomBlueHills.org or call 617-698-3394.