Changes "afoot" for Interfaith's annual road race
Proceeds from the Stop the Stigma 5K support neighbors fighting mental illness and addiction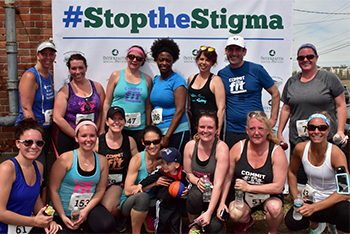 Get ready to lace up your sneakers and hit the streets of Squantum on April 28th, for Interfaith Social Service's 44th annual Stop the Stigma 5K. Hundreds will be walking and running in support of friends, family and neighbors fighting mental illness and addiction.
What's new this year?
· The race's name. We've modified the name from the South Shore Walk and 5K Race to the Stop the Stigma 5K. We feel this puts more emphasis on the purpose behind the race, which is to draw attention to the importance of mental health counseling and addiction recovery treatment, ending social stigmas attached to mental illness and supporting those suffering.
· The race course. We've made slight adjustments to try to avoid some of the hillier sections of Squantum. Check out the new route at StopTheStigma5K.org.
· Bibs and T-shirts. All participants who register by April 13 will receive a Stop the Stigma 5K cotton T-shirt. This year, for an extra $5, upgrade to a dry-fit performance tee (previously reserved for runners only). And, this year everyone will receive a numbered bib from RaceWire. This will allow all participants to be timed as well as tagged in race-action photos.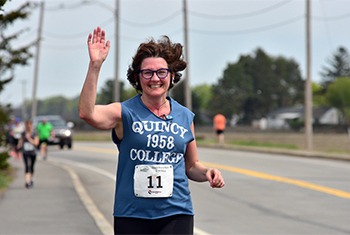 Besides a scenic, challenging race route and the chance to support an amazing cause, this event also includes a post-race Family Fun Celebration with lunch, snacks, drinks, a kids Fun Run, games, raffles, a bouncy house, face painting and so much more. The Arbella Insurance Foundation and Boston Medical Center HealthNet Plan have both come onboard as Platinum Sponsors for the fourth year in a row and Quincy College has joined for the third time as a Gold Sponsor. In addition, Balducci's House of Pizza and Unchained Pizza are kindly providing lunch to all participants. It is thrilling to see such a strong sense of investment from our community.
Register now at StopTheStigma5K.org.
All funds from this event support Interfaith's various programs, including The New Directions Counseling Center. New Directions has been offering compassionate and skilled counseling to the South Shore since 1947. Our nonprofit counseling services provide a safety-net ensuring that everyone is able to receive care regardless of their health insurance status or income.
About Interfaith Social Services
Founded in 1947, Interfaith Social Services' mission is to improve life for South Shore families and individuals in need. Programs include one of the largest food pantries in Greater Boston; budget counseling and homelessness prevention; The New Directions Counseling center, community gardening; free professional attire for job interviews, life skills workshops, and The Bureau Drawer Thrift Shop – operated entirely by volunteers with all sales benefiting Interfaith's programs. Clothing and food donations from the community are always welcome. For more information, or to inquire about volunteering with Interfaith, please visit: www.InterfaithSocialServices.org.