Enjoy a taste of the Caribbean right here in Milton
Stir It Up Cuisine offers 10% off first order by mentioning Milton Scene
Stir it up Cuisine, owned and operated by Milton resident, Patrice Kiernan is gearing up for the busy spring season with catering options for all of your events: Baby Showers, Graduations, Communions, Weddings, you name it, Stir it Up Cuisine has you covered.
Winner of 2013 Supermarket Superstars, Patrice, who immigrated to the United States over 40 years ago, maintains a close connection to her Jamaican roots by infusing every dish with flavor that is unique to her homeland.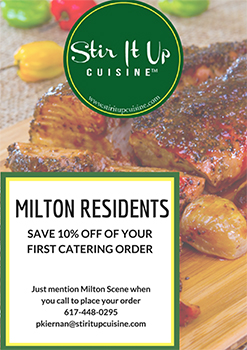 The Stir it Up menu incorporates a fusion of cuisines from the Caribbean reflected in their stews, Jamaican curries, and rice and beans. Stir it Up also prepares traditional meals cooked with a Caribbean flair. Oh, and if you're intimidated by the mention of spices, don't be, Stir it Up can adjust the temperature of their dishes to suit every palate.
To receive your special discount:
Spring is all about out with the old and in with the new. Why not introduce some Caribbean flair to your next event? You won't regret it, guaranteed! We've also got a special promotion for Milton residents. Save 10% off of your first order by mentioning The Milton Scene.
For more information:
Please head to their website: http://www.stiritupcuisine.com/