Random Review Wednesday: Stitch Fix personalized clothing styling
I adore new clothing, but I absolutely hate shopping. I don't have the time or energy for it. Yet, I also don't want to be one of those people who doesn't try out new styles here and there.
About every month, I order a "fix." This way, I don't have to deal with dressing rooms, lines, and the "too peopley" world of the mall, but I still get to be at least a little on-trend with my outfits.
To get started with a fix, you fill out a style profile with your height, weight, age, style preferences, budget, etc. Stitch fix then matches you with a personal stylist who hand-selects clothing & accessories just for you based on your size, style and budget.
If you have an Instagram or Pinterest account, even better – as your Stitch Fix stylist can check out your style and lifestyle, in order to tailor your fix to you.
What it's like to open a fix:
You get outfit suggestions, too!
Your stylist will write you a personalized note and will provide tips for how to wear the styles included in your fix.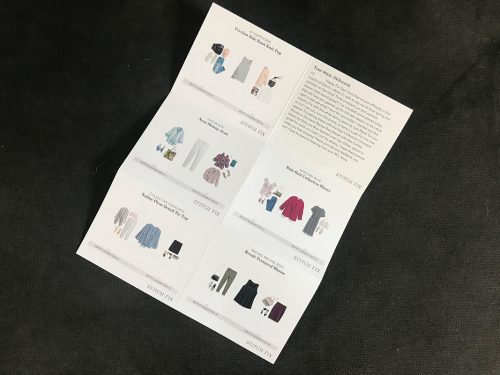 Your stylist takes requests!
You can ask for specific styles or items when you schedule your fix – for example, "I need more work clothes, date night clothes, a dress for a wedding, etc." You can also indicate "dealbreaker" styles and colors. My profile says, "Absolutely no olive green tops and I hate turtlenecks," which ensures that I never get these personal no-nos.
Try it out today and get $25 off!
I'm going to be honest, it's SUPER FUN when my Stitch Fix box arrives.
And most of the time, I keep at least two pieces. Note that you do get charged a $20 styling fee, but it is credited toward your purchase. If you keep all five pieces, you get a 25% off discount, but I've only done this once.
Get ready for the upcoming season with some new outfits today! Click here to get started and for $25 off.
Check out all of our random reviews!