New Directions Counseling Center welcomes new therapists
New Directions is a program part of the Interfaith Social Services in Quincy.
New Directions Counseling Center, a program of Interfaith Social Services in Quincy, is pleased to announce the addition of two therapists to their team of mental health and addiction recovery professionals.
Brett Dixon and Caitlin Kaake joined New Direction's team in early August. New Directions has been providing compassionate and skilled counseling to families and individuals on the South Shore since 1947. All clinicians are professionally trained, licensed independent clinical social workers, licensed mental health therapists or masters-level clinicians.
Dixon earned a B.A. in Philosophy and Religious Studies at Salve Regina University and a M.A. in Clinical Mental Health at Lesley University. He works with clients of all ages and specializes in depression, anxiety, PTSD, grief and substance abuse. Dixon has experience working with children in both hospital and community settings and with adults with dual diagnosis who are currently experiencing homelessness.
Dixon utilizes a holistic and client centered approach to counseling, often combining mindfulness, cognitive behavioral therapy, existential therapy and narrative therapy to help clients better understand their symptoms and find an individualized and meaningful approach to healing. He believes that healing develops through building positive relationships and works to create a safe, comfortable and open environment for all his clients.
Kaake earned a B.A. in Psychology and Religion at Amherst College and a M.A. in Counseling from Northwestern University. She works with clients of all ages, dealing with issues that include depression, anxiety, OCD, low self-esteem, social anxiety, grief, perfectionism and miscarriage/infertility.
She utilizes an integrative approach, drawing from cognitive-behavioral, strengths-based, narrative, and play therapy, always with a focus on helping clients understand their symptoms in the larger context of their lives. "I believe people make the most lasting change when they not only understand what their habits and problems are, but where they came from, and how they've gotten through them so far," Kaake said.
"I want people to leave feeling that they've made successful changes, but also that they have a renewed interest in and understanding of themselves as individuals."
Kaake also uses Christian counseling for those who want to include their Christian faith in their therapy. Her focus is on creating a comfortable space for clients to be themselves, have their thoughts and feelings respected, and feel fully involved in the treatment process.
New Directions Counseling Center provides services in a comfortable and confidential atmosphere. Therapists provide an individualized, dynamic and respectful approach. Most insurance is accepted. A sliding-fee scale is available to those without coverage to accommodate all who need services.
Call 617-773-6203 ext. 12 for more information, to arrange a visit, or to schedule an appointment. Evening hours are available.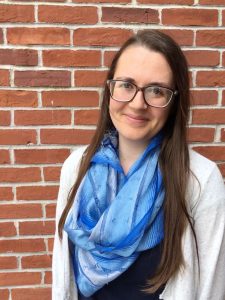 Caitlin Kaake recently joined the team at New Directions Counseling Center, a program of Interfaith Social Services.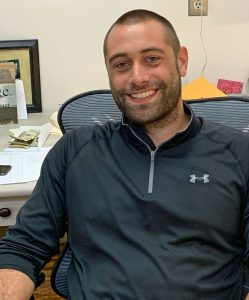 Brett Dixon recently joined the team at New Directions Counseling Center, a program of Interfaith Social Services.
About Interfaith Social Services
 Founded in 1947, Interfaith Social Services' mission is to improve life for South Shore families and individuals in need. Programs include one of the largest food pantries in Greater Boston; budget counseling and homelessness prevention; The New Directions Counseling center, community gardening; free professional attire for job interviews, and The Bureau Drawer Thrift Shop – operated entirely by volunteers with all sales benefiting Interfaith's programs. Clothing and food donations from the community are always welcome. For more information, or to inquire about volunteering with Interfaith, please visit: www.InterfaithSocialServices.org.