R3BILT offers unique anti-aging workout to Milton Neighbors
 "Had an awesome work out at r3bilt! They've designed such a unique space and concept- you feel like you're getting a strength workout, a complete stretch and a detox all in one! Whether you're an avid fitness junkie or just starting out the r3bilt classes are for you!" – MindBody Reviews On-Line
R3BILT is different than ANYTHING you have ever tried for a workout!
All you need is 1-hour and you will complete a science-based trainer-based full body/mind workout! R3Bilt is a SMARTER WAY TO WORKOUT; we employ a recovery based 3-phase workout that can't be accomplished anywhere else!
First, we Rebuild your muscles with a unique strength-training program using functional movements.
Second, we Recover your body through mobilization, which helps increase flexibility, balance and speeds up recovery time.
Thirdly, we focus on the bodies need to slow or Reverse the aging process by utilizing cutting edge therapies that include rebounding, vibration plates, light therapy and heart rate variable breathing.
The benefits of these therapies are endless, but some of the major benefits include increased bone strength, increased muscle mass, increased fat loss, better lymphatic and nervous system health, detoxification and elevated human growth hormone levels. There are thousands of scientific studies supporting the many puzzle-pieces of our philosophy, but don't worry, we did all of the research, so all you have to do is show up!
Whether you're a former athlete, an avid exerciser or never picked up a weight, we already have many members in your boat and you will be very comfortable at R3BILT and experience tremendous long lasting gains!
Hi! My name is Alli Barnes, I am the CEO & Founder of R3Bilt!
I have owned and operated multiple successful start-up businesses, but this is by far the most effective, and the culmination of my past education, employment, and life experiences.
I love helping people achieve better health gains and long-term health! I have vast experience and knowledge in health, wellness, exercise, and anti-aging science and have earned degrees in Exercise Physiology & Sciences, and Alternative Medicine, as well as is a certified nutritionist, health coach, herbalist, and yoga teacher in training.
I, like you, have many obligations, and my main goal at 40-something years old is to create balance in my life- Be the best mom, friend, daughter, sister, boss, employee, and person I can be. The only way to accomplish all of this in my busy life is to work smart…which includes working out smarter and being the healthiest I can be without causing extra stress and damage to my aging body.
I don't have time to workout for hours a day, to get injured, or lose quality of life as I age. I'm sure you're similar, and that's why I devised our first-of-its-kind science-based fitness program.
I invite you to come join an intro class for FREE anytime and see how we can change your health on so many levels!
Special Offer– 50% off your 1st Month!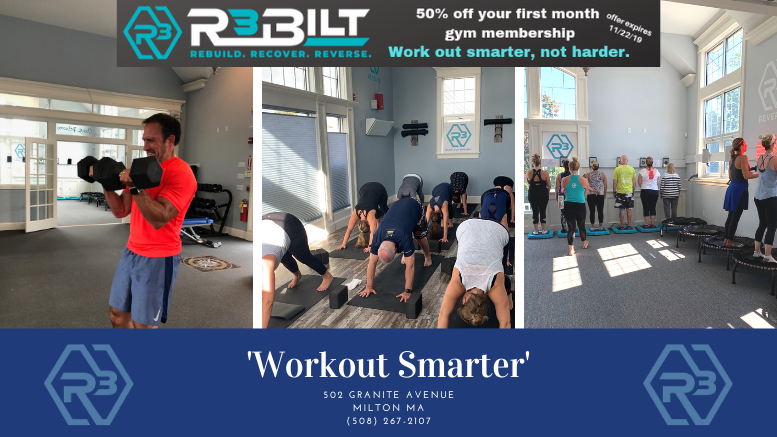 Come find us!
We are conveniently located in East Milton Square, with lots of parking!
502 Granite Ave. Milton MA 02186
PH: 857-267-2107
E: [email protected]