Milton's Celina Miranda honored as one of Massachusetts' top Latino leaders
Read on to learn more about Celina Miranda and her accomplishments.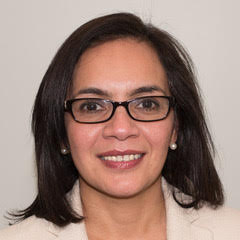 Milton resident and non-profit leader Celina Miranda was recently recognized by the Massachusetts House of Representatives as one of the state's most accomplished Latino leaders for her work developing leadership and advocacy skills in youths in Boston's Jamaica Plain neighborhood.
Miranda, the executive director of the Hyde Square Task force, was honored in the State House at the 2019 Latinx Excellence on the Hill ceremony, hosted by the Massachusetts Black and Latino Legislative Caucus.
"Miranda has spent her career engaged in work that enables underserved communities to access the resources and opportunities they need for a better future," the Caucus noted. "With more than a decade of experience in philanthropy, she has helped numerous Boston nonprofits secure funding in the service of their mission."
The event marked a celebration of National Hispanic Heritage Month and community leaders making a difference across the Commonwealth.
Senate President Karen Spilka and House Speaker Robert DeLeo attended the Oct. 3 event, where they recognized Latino community leaders for their contributions to the Commonwealth.
Miranda was presented with a House of Representatives' citation, signed by DeLeo, that recognized Miranda's "mastery in developing culturally relevant and powerful leaders, especially among our youth, even in the midst of adversity, in good times and in bad."
Since 2016, Miranda has led the Hyde Square Task Force, a non-profit organization based in the Latin Quarter of Boston, which engages over 800 youth through its various cultural, educational and community action programs. She manages a budget of $1.8 million and 19 full- and part-time staff members. Prior to that, she was a senior program officer with the Richard and Susan Smith Family Foundation. Miranda received her bachelor's degree from Smith College and holds a PhD in sociology and social work from Boston University.
Miranda's was nominated by State Representative Nika Elugardo, who represents parts of Boston and Brookline.
The annual award ceremony is hosted by the Black and Latino Legislative Caucus. The group of legislators on the caucus work throughout the session to help people of color living in Massachusetts succeed, whether it's in business, education, or politics.
About Hyde Square Task Force
HSTF was founded in 1991 when a coalition of neighbors and community leaders felt a sense of urgency to address the growing violence, economic, and social challenges facing the Hyde/Jackson Square neighborhood of Jamaica Plain. HSTF's mission is to amplify the power, creativity, and voices of youth, connecting them to Afro-Latin culture and heritage so they can create a diverse, vibrant Latin Quarter and build a just, equitable Boston. Based on the belief that communities are stronger when they create the conditions youth need to thrive, HSTF engages more than 800 children, youth, and young adults each year through its Youth In Action, College Success, Creative Development programs as well as through its Community Engagement work.