Inspirational "insurance" and lots of love for pets from Robin Hanley of The Hanley Agency
How did you get started in this business?
My grandmother started in the insurance industry in the early 90's so it has always been something I've been involved with even at a young age. After graduating from college in 2011 I came to work full time running the insurance agency. We had been looking for additional insurance carriers in 2013 when I came across an advertisement for Allstate in the paper- They left MA in 1989 due to insurance regulation and made their return brick and mortar in 2012. After one meeting, my mother Robin and I knew it would be an amazing opportunity and we ran with it! We opened in October of 2013. Currently in our seventh year in business, we are working hard to retain our position in the top 2% of agencies countrywide!
What are some lessons you've learned while in business?
There are so many important lessons that we have learned in the past six+ years. I would honestly say the most valuable lesson learned is the importance of having life insurance. Delivering a death benefit check changes you– when something awful happens to someone, people bring a casserole, or a card… but showing up and giving that family a check– letting them know that they can have time to grieve without fear of a financial burden– that's why we do what we do.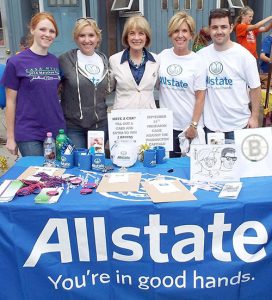 Have you always worked in this type of business or have you dabbled in other things?
My parents are entrepreneurs so working for myself is in my blood. My mother has had her own real estate company for many years– taking over after my Grandmother started it in the 1970's.
My father is an immigrant from Ireland who has been a successful entrepreneur his whole life with businesses ranging from construction to the bar/restaurant business.
I am proud to follow in their footsteps while also carving my own path.
If you could provide advice to anyone looking to start a business in the area, what would it be?
Deliver customer service that makes a lasting impression. There will ALWAYS be someone out there who can do it faster and cheaper. What can you do to differentiate yourself from the crowd?
Providing exceptional customer service in any industry keeps clients coming back again and again.
We have over 100 five star reviews on google– that kind of love also attracts new customers!
Please describe your favorite or ideal customer.
We love all of our customers at The Hanley Agency- but our favorite type of customer is one who can grasp the importance of what we do. Insurance is not just something you need to have by law, it's something you should have for protection. Breaking this down and explaining the importance of liability and life insurance to customers is why we do what we do!
What is your #1 tip for other business owners?
Make a plan to succeed- but be flexible. As a small business owner, you need to wear many different hats and adjust to many circumstances you might not have planned for. Keeping a sense of humor also helps when things get gritty!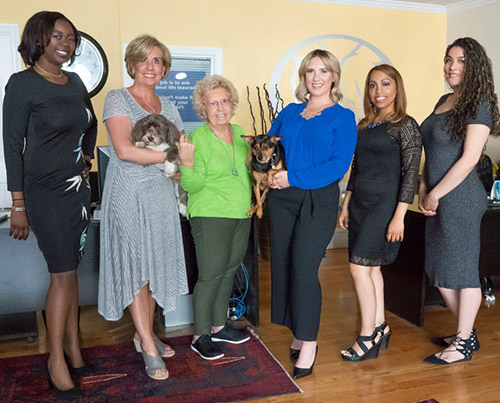 What's your favorite local business to support?
We LOVE supporting local business- it's the lifeblood of our communities. If we're not in the office, you can probably find us strolling the aisles of the Fruit Center, enjoying "me time" at Milton Nails and Spa, or grabbing a bite with friends at Novara.
What are you passionate about?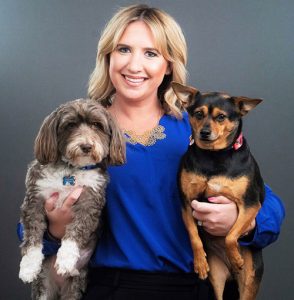 We support a few local and not so local shelters and dog rescues. We are big dog people! Allstate will write insurance including any breed of dog whether it is a pitbull or a chihuahua!
How can people get in touch with you?
You can reach us directly by calling the office at 617-302-8418, or sending an e-mail to [email protected]
You can also check us out on Facebook at facebook.com/thehanleyagency or visit our website at agents.allstate.com/jillian-hanley-quincy-ma.html
---