Superintendent Gormley releases updates for the week of December 30, 2019
Read on for some of the latest updates on events, programs, and more going on in Milton's public
Today we welcomed back our Milton Public Schools students and staff after what we hope was a restful and enjoyable winter break. Our custodians were busy over break preparing our buildings for the winter season and we thank them for their continued efforts on behalf of our students and staff.
There are several important dates on the MPS calendar in January and February and I want to call your attention to them here. Please see the Grade Specific Information Nights listed just below.
GRADE SPECIFIC INFORMATION NIGHTS
On Tuesday, January 7th, 5th grade parents/guardians are invited to the Pierce library at 6:30pm for the 5th Grade Health & Development Information Night.
Please join us for Preschool Information and Pre-Registration Night on January 9, 2020 at 6:30pm.Children attending a MPS Preschool Program must be three years old on or before August 31, 2020. Preschool staff and administrators will highlight programs offered as well as answer any questions families may have. This information session will take place in the Charles C. Winchester Auditorium, Milton High School, 25 Gile Rd. All details can be found here.
On January 23rd, 2020 at 6:30 pm, we hope to see many kindergarten parents and guardians at Kindergarten Information Night in the Charles Winchester Auditorium located at Milton High School, 25 Gile Rd. As we prepare to welcome our new kindergarteners next September, the first step for families is to pre-register your new student. Pre-registration can be found online here. Please note that your child must be five years old on or before August 31, 2020 to start kindergarten in September 2020. All details on registering for Kindergarten can be found here.
On Tuesday, February 25th, in the MHS Auditorium, parents and guardians of current kindergarten students are invited to 1st Grade Information Night to learn about our two first grade programs: the English Innovation Pathway (with STEM & Spanish) and French Immersion. We will also explain the Assignment Plan, Lottery (if needed) and the Timeline. The night will end with a Q&A session. We will also hold a STEM Information Night on March 2nd, in the Collicot/Cunningham library, for current kindergarten families to preview an overview of the STEM Program in the English Innovation Pathway and participate in a hands-on engineering activity.
UPCOMING MPS DATES
Jan 7 5th Grade Health & Development Information Night
Jan 8 Milton School Committee
Jan 9 Preschool Information Night
Jan 16 MHS/PMS Jazz Concert
Jan 20 No School-MLK Jr. Holiday
Jan 21 PARENT Speaker Series, Mary Cole-"Vaping and our Youth"
Jan 22 Milton School Committee
Jan 23,24,25 Pierce Players
Jan 23 Kindergarten Information Night
Jan 30, 31 Feb 1 MHS Winter Production
Feb 4 Parent Speaker Series, Jon Mattleman – Secret Lives of Teens & Tweens
Feb 5 Early Release Day for Students
Feb 5 Milton School Committee
The 2019-20 calendar can be found here.
The School Committee voted recently on the 2020-21 school year calendar. The approved calendar can be found here. 
Save the date for Milton Summer Enrichment 2020! MSE 2020 will run from July 6-31st, 2020. Look for details after the new year. For a peek at last year's MSE details, check out our MSE webpage.
PARENT SPEAKER SERIES
Up next in our PARENT Speaker Series, Mary Cole, MPH, CHES presents "Vaping and Our Youth: Strategies for Prevention" on Tuesday January 21st at 6:30pm at the MHS auditorium.
Learn more about what e-cigarette and vape products are, why they are harmful, how the tobacco and vaping industry are targeting kids, and how to protect our kids from this latest trend. Mary Cole is the Program Coordinator of the Greater Boston Tobacco-Free Community Partnership. Mary has her Masters in Public Health from Boston University and is a Certified Health Education Specialist (CHES).
SCHOOL COMMITTEE
Recent School Committee meetings can always be watched on Milton Access TV.  The next School Committee meeting is on January 8th, 2020 at 7pm. School Committee agendas and documents can be found in the School Committee tab on the front page of our website. 
INSIDE OUR ELEMENTARY SCHOOLS
Collicot 5th grade students recently learned about Egyptian art by making their own version of papyrus paper. Students deconstructed brown butcher paper by ripping into long finger width strips then dipped the strips into diluted glue and set them to dry.
The completed papyrus became the perfect background for their Egyptian profiles and hieroglyphics.
***
Collicot and Cunningham students in Mrs. Allegrezza's music classes recently celebrated the end of term one by performing individual and group performances for their classmates during a special activity called "Music Share.". Please enjoy this compilation of some of the many acts performed at Collicot and Cunningham before winter break.
The Tucker Basketball League ended their season with a big game on December 16th. Congratulations to the Blue Team who won a close one after 5 weeks of head to head competition across 4 teams! 36 of our 4th and 5th grade students participated in this fun school league which enjoyed its fourth year of success. A big thank you to Coaches David Beaufort and Aidan Johnson for their time and dedication to our students and to all of the players and families who participated.
Keepin it moving at Tucker basketball this fall!
***
Just before winter break, Collicot 5th graders presented their projects for the 2nd annual STEM Toy Fair.
The CHALLENGE for the STEM Toy Fair was: Design and build a homemade toy that two to four children can play together. Use as many found materials as possible.
The CRITERIA for the STEM Toy Fair was as follows. The toy should…
Be a toy that children around the world would like to play with
Be designed for 2 to 4 children to play together
Be constructed of mostly found materials (reuse/recycle)
Be safe to play with
Be easy to carry
Children all over the world have some things in common. They all need food, shelter, and clothing. And they all PLAY! Many children create their own toys with things they find in their environment. This leads to the invention of many homemade toys. Our students enjoyed making these creative projects from recycled materials!
***
Cunningham 3rd graders in Mrs. Zoll's class recently participated in an owl pellet dissection as part of a FOSS investigation.
***
Glover students in Ms. Comer's kindergarten class are starting the year off learning about graphing in math. Students built a class bar graph based on favorite colors and then discussed the information that was presented in graph form. Way to start off the new year in Kindergarten!
ATHLETICS
Boys and Girls Track take on Framingham tonight in a cross-division matchup at the Reggie Lewis Center.
Wrestling travels to Brookline High School to start the new year.
Next up in the league is Natick High School, as the Girls Basketball and
Thank you, MHS Boosters!
Girls Hockey Teams are home on Friday and Saturday, respectively.
Thank you to the Boosters for the brand new chairs for our Field House and thank you to all who supported our student athletes over winter break with attendance at games! All schedules can be found on our Athletics website.
The MHS Ski Team will be hosting the first Cans for Cats bottle and can drive of 2020 on Saturday, January 4th from 9 a.m. to noon at Milton High School.
IN THE COMMUNITY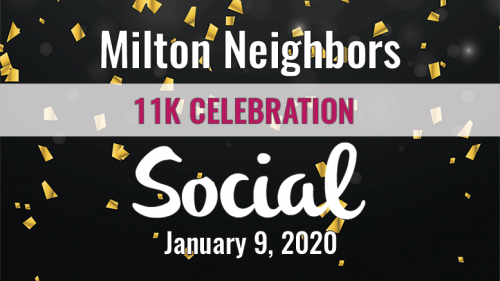 The Milton Scene and popular Milton Neighbors Facebook group is holding their member social on Thursday, January 9th at Novara. This year, the group has generously offered to donate all profits to the Milton Public Schools pilot music program for children who wish to take a musical instrument, and need financial assistance to participate.
Learning a musical instrument is a gift that can change a life and we so appreciate these neighbors working together to give some of our MPS children the gift of music!
Do you have an instrument collecting dust in your attic? Bring it to the social for a tax-deductible donation! Please contact them ahead of time if you are bringing an instrument by emailing [email protected].
Tickets are available here. Please consider attending and supporting this valuable MPS program.
***
The next Milton Community Concert, "Rockin' With Renaissance Men", will be on Saturday evening, January 18th at 7pm at First Parish of Milton, 535 Canton Avenue. This is a free benefit concert, with donations of any amount going to support the National Alliance for Mental Illness.
***
The Town of Milton is preparing a climate change vulnerability assessment. The assessment's goal is to identify hazards climate change pose to Milton, our points of vulnerability to these hazards, and our points of strength as we work to mitigate their effects.
To that end, the Town will be hosting a public listening session before our assessment to get a better idea of resident priorities and mine their collective knowledge. All members of the Milton community are invited to the Climate Change Vulnerability Listening Session on Thursday, January 9th 6:30-8:30pm at the Milton Library, Keys Community Room.
AMBASSADOR PAGE
As part of our E-blast, we highlight students, teachers or members of the community whose hard work deserves recognition. Please read about some of their accomplishments below:
VOLUNTEERS:
I would like to thank MPS parent Sean Roche and all who participated and attended in three Pop Up Art Shows in December to benefit the Art and Music Programs in the Milton Public Schools. These events raised $3,155.00 in support of out Art and Music programs. I could not be more thankful for this generous contribution that will directly benefit our students!
BLOG SUBSCRIPTION
If you do not receive the Superintendent's Weekly Update and would like to, please enter your email here to subscribe to this one weekly email.
Thank you to my blog contributors this week: Noel Vigue, Zeina Hamada, Dr. Elaine McNeil-Girmai, Karen McDavitt, Dawn Sykes, Ryan Madden, April Allegrezza and Ellen Lohan.