MSAPC presents, Addiction: Prevention and Hope for Recovery
The fourth in a series of webinars for the Milton community, titled Addiction: Prevention and Hope for Recovery, is on Wednesday, May 27th at 7:00 p.m.. The founder and CEO of Learn to Cope, Joanne Peterson, will share what she has learned through her years of helping families who have loved ones struggling with addiction. Potential risky behaviors and warning signs of substance abuse will be explored, as well as what we all can do to support ourselves, our relatives, and our neighbors when a family member becomes addicted to drugs or alcohol.
Learn to Cope was founded in 2004 and was born out of the life experience of Joanne Peterson whose own son developed an opioid addiction. It is a peer-led support network that is funded in the Commonwealth by the Massachusetts Department of Public Health, and also reaches thousands of people across the country through an online forum. Learn to Cope is dedicated to spreading messages of prevention, education, awareness, and advocacy.
Each webinar in the Milton Learns Together: Webinar Wednesdays series is approximately 30 minutes long with a question and answer period to follow. They are free and no registration is required. All of the webinars can be accessed by entering this address into your computer's or phone's browser: zoom.us/j/92433263470 and entering your name and email.
The Milton Learns Together: Webinar Wednesdays May and recently added June schedule is as follows: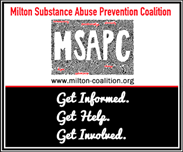 May 27th, 7:00 p.m., Joanne Peterson, Addiction: Prevention and Hope for Recovery
June 3rd, 7:30 p.m., Casey Corcoran, The Birds, the Bees and the Butterflies
June 10th, 7:30 p.m., Julie B. Cullen, Pandemic Parenting: Grades K-5
June 17th, 7:30 p.m., Dr. Daniel Muse, Treating Acute Pain: Nonaddictive Options
June 24th, 7:30 p.m., Kristen Wason, Current Treatments for Alcohol and Opioid Disorders
For more information, please visit the Milton Substance Abuse Prevention Coalition website: www.milton-coalition.org