Milton Neighbors protest peacefully, share resources on Black Lives Matter movement
On Monday, June 1, a group of over 100 residents protested peacefully in East Milton Square:
Resources:
Neponset Neighbors Together Fund
The Neponset Neighbors Together Fund ("NNTF") is a collaboration among United Way, the Town of Milton, and the Boston neighborhoods of Mattapan, Dorchester and Hyde Park through Boston City Councilors Andrea Campbell and Ricardo Arroyo, the Milton Interfaith Clergy Association, and Courageous Conversations Toward Racial Justice Milton-Mattapan, to establish a COVID-19 Fund to support neighbors of Milton, Mattapan, Hyde Park and Dorchester, who are adversely impacted by the current health crisis.
Ally resource guide:
Black Economic Council of Massachusetts (BECMA) list of Certified Black Owned Businesses
This list of Certified Black Owned Businesses that are doing business in Massachusetts is provided by the Black Economic Council of Massachusetts (BECMA) to assist in identifying Black owned businesses. It is a work in progress, will be continuously
updated, and may have inaccuracies.
Petitions, places to donate, resources compendium
Petition to Diversify Education in Milton
This is a Petition in order to diversify the english and history programs at Milton High School. This includes subjects such as the history and struggles of both oppressed and minority groups, that are not currently a part of the curriculum at MHS. All names and answers will be shared fully and entirely with the Milton Publics Schools Board of Education
Events:
Milton Standout Against Racism, June 4, 2020, 6:00 p.m.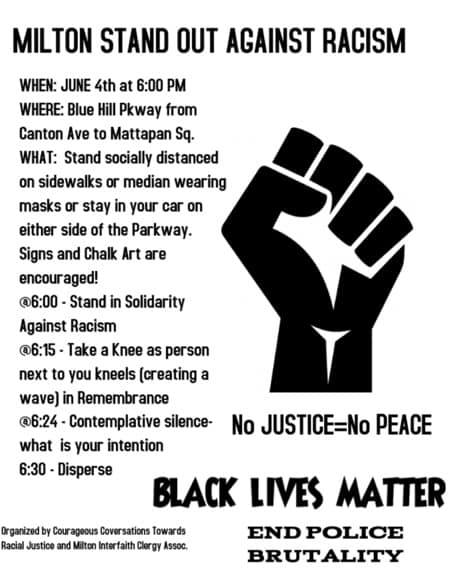 Shared Articles & Videos:
For our White Friends Desiring to Be Allies
TIM WISE – White Privilege, Racism, White Denial & The Cost of Inequality
Institutionalized Racism: A Syllabus – How can we help students understand George Floyd's death in the context of institutionalized racism?
A black man was afraid to walk in his gentrified community. So 75 neighbors walked with him.
Positive depictions of the protest in Boston on May 31, 2020.
CNN and 'Sesame Street' to host a town hall addressing racism
Yard Signs:
Get your We Love Our Milton Neighbors yard sign here. 100% of profits go to the Neponset Neighbors Together Fund.