MSAPC Presents: Current Treatments for Alcohol and Opioid Disorders
On June 24th at 7:30 p.m., MSAPC presents Kristin Wason, who will lead a discussion on current treatments of alcohol and opioid disorders.  The primary message is hope; recovery is possible.  Kristin Wason is a Milton resident and an addiction treatment practitioner with years of experience as a clinician and as a consultant to community health centers.  She will provide an overview of the risk factors and brain changes that contribute to developing a substance use disorder.  She will also share local resources and best practices when it comes to treatment.
Each webinar in the Milton Learns Together: Webinar Wednesdays series is approximately 30 minutes long with a question and answer period to follow. They are free and no registration is required. All of the webinars can be accessed by entering this address into your computer's or phone's browser: zoom.us/j/92433263470 and entering your name and email.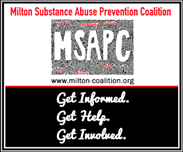 The Webinar Wednesdays series is supported by funding from a federal DFC grant, Mike's 5K to Crush Substance Abuse, and from BID Hospital – Milton.
For more information, please go to the Milton Substance Abuse Prevention Coalition website: www.milton-coalition.org.
All of our webinars from this series can be found in the video section of our Facebook page (MiltonCoalition) or in the Video On Demand section of the Milton Access TV website (miltonaccesstv.org).