MSAPC presents: Pandemic Parenting: K-5
On June 10th at 7:30 p.m., Julie B. Cullen, LICSW, Ed.M will share her vast experience working with children and families in clinical and educational settings.  She will share specific techniques caregivers can use to help support elementary school children in the face of Covid-19.  Issues covered will be managing remote learning, parenting while working, supporting family mental wellness and having fun along the way.  This webinar is perfect for anyone with a child in Kindergarten through 5th grade.
Each webinar in the Milton Learns Together: Webinar Wednesdays series is approximately 30 minutes long with a question and answer period to follow. They are free and no registration is required. All of the webinars can be accessed by entering this address into your computer's or phone's browser: zoom.us/j/92433263470 and entering your name and email.
The Milton Learns Together: Webinar Wednesdays June schedule is as follows: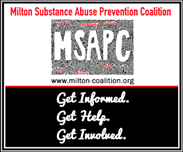 June 3rd, 7:30 p.m., Casey Corcoran, The Birds, the Bees and the Butterflies
June 10th, 7:30 p.m., Julie B. Cullen, Pandemic Parenting: Grades K-5
June 17th, 7:30 p.m., Dr. Daniel Muse, Treating Acute Pain: Nonaddictive Options
June 24th, 7:30 p.m., Kristen Wason, Current Treatments for Alcohol and Opioid Disorders
Please note: the June webinars are now at 7:30 p.m. The Webinar Wednesdays series is supported by funding from a federal DFC grant, Mike's 5K to Crush Substance Abuse, and from BID Hospital – Milton.
For more information, please go to the Milton Substance Abuse Prevention Coalition website: www.milton-coalition.org.
All of our webinars from this series can be found in the video section of our Facebook page (MiltonCoalition) or in the Video On Demand section of the Milton Access TV website (miltonaccesstv.org).