Do you have a back-to-school plan for your pets?
Whether you're an essential worker, a parent of a hybrid or remote student who's also juggling his/her own job, an overwhelmed owner of a new COVID puppy, or maybe you just need that one extra thing taken off your plate. Comfy Cozy Pet can take some of the stress away!
Let us help! We offer dog walking and in-your-home pet sitting services.
Your dog will get to have his own dedicated dog-walker. We will match your dog with his new best friend who will visit your dog each time so that the dog-walker can get to know your dog's habits and preferences. Our dog walkers love pets and love learning about their new furry friends.
Try us free for a month!
Book with Comfy Cozy Pet by October 31st and we'll give you your first month FREE!
To take advantage of this offer, call us at (617) 953-4500, email us at [email protected] or fill out our handy contact form: comfycozypet.com/contact.
Client testimonials
Comfy Cozy has been visiting my pets since they were each eight weeks old and I couldn't be more satisfied with their service. The walkers who visit my dogs daily are absolutely wonderful and the dogs simply adore them. They are so reliable and prompt with their visits, as well as very responsive to my requests. I couldn't be happier with the terrific services provided by Comfy Cozy Pet Sitting. They are all a delight to work with and so very accommodating.

Mary C.
"Cayden & Charlie"

Excellent, trust-worthy pet service which provides you with updates including pictures. The updates are especially reassuring when you are leaving your pet for an extended period of time. Highly recommend Comfy Cozy Pet Sitting Services.

The Costello Family
"Warren"

We are very grateful to have found Comfy Cozy Pet Sitting for our beloved Lupin. They are responsible and punctual, write wonderful pet logs when we're gone, even send pictures and videos of our pup. Lupin is happy and content when we return and that has made an enormous difference for us upon return, knowing that he is calm and well cared for while we're away.

Monique G.
"Lupin"

We have been satisfied customers for over a year. It is a relief to have people you can trust come into your home to take care of your pet. They have also helped us out of a couple jams – like when our son was watching our dog for the weekend and received a last minute invite down the Cape. We called Comfy Cozy, and a sitter checked on Donny until we could make it home. So nice to have someone you can depend on when life throws you a curve ball!

Jen O.
"Donny"

I can't say enough kind words about Comfy Cozy Pet Sitting! I have had some challenging pets, from a very old and tottering Springer Spaniel to a cat that requires 2 doses of medicine per day. Kathy and her team, especially the wonderful Kara, have been consistent, caring and dependable. I have had over 10 pet sitters and pet sitting services over the past 20 years and this has been by far my best experience. We thank you!

Wendy I.
"Albert"
About owner Kathy Henderson: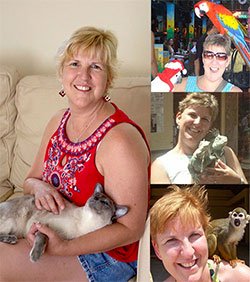 I'm Kathy Henderson, and I have been an animal lover for as long as I can remember. At present, our family owns two dogs and two cats. In the past, we've owned dogs, cats, fish, birds and turtles. As you can see in these pictures, there aren't too many types of animals, birds or reptiles that I do not like.
It has been a dream of mine to work with and care for animals and that's why I started Comfy Cozy Pet Sitting. I believe that our pets are precious and deserve the best possible care. At Comfy Cozy Pet Sitting, we strive to provide the type of loving care and companionship that pet-owners want their pets to have.
Give us a call so that we can help!
Call us at (617) 953-4500, email us at [email protected] or fill out our handy contact form: comfycozypet.com/contact.
Book by October 31st and we'll give you your first month FREE!