GoFundMe fund set up for Milton's beloved Ernie Young, in support of brain surgery battle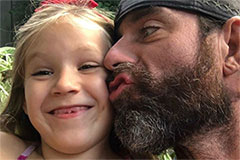 Editor's note: A kindly reminder that no donation is too small. Sometimes, I think people are sometimes embarrassed that they can only give $5 or $10 – and are worried that it's too small.
Think about the accumulation, though.
If each member of Milton Neighbors gave just $5, it would mean over $55,000 to help out Ernie and his family. So, don't beat yourself up if you can only give a little (times are hard, after all!).
Even small acts of kindness add up. ❤️ Click here to donate.
The following appeared on a GoFundMe page, set up for Ernie Young and family:
Our brother, Ernie who is only 40 years old went into to ER yesterday for a severe headache and immediately got admitted into the hospital. Upon further examination, Ernie's world was turned upside-down when the doctors diagnosed him with an aggressive large brain tumor. Ernie, a father and husband is undergoing extensive brain surgery on Monday September 28th. Medical expenses, even with insurance are devastating. Ernie is the sole provider for his family – his wife Lauren and 7-year old daughter, Lily. For those of you that know Lily and Lauren, know that he is Lily's world and love of Lauren's life. His road to recovery is long and extensive and will last for years.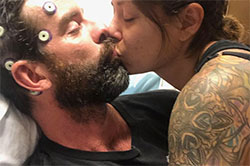 Due to the recent pandemic,  Ernie's family is already facing financial hardship and Lily will not get to visit her father before or after his life changing surgery. Even though we can't be there physically for Ernie's recovery, we can all help by relieving the financial stress of this horrible situation. We would be grateful if you could please donate to help relieve the financial pressure from his wife and daughter, so that Lauren and Lily may concentrate on what is most important, getting Ernie, their precious husband and father back home where he belongs. Anybody that knows Ernie, knows how big his heart is and he would give you the shirt of his back.
If you are not able to donate, we kindly ask that you share this and help spread the word.
We also ask you to keep his mother, father, wife, daughter, brothers and sisters in your prayers and send love, light and healing energy to Ernie and our family during this extremely traumatic time.
Thank you for taking the time to read this and we will provide updates as we get them.
View and contribute:
Ernie Young is the small business owner of Young Home Solutions, providing home remodeling, interior/exterior painting, snow removal, pressure washing, audio/visual installation, and other services.