Introducing… The Milton Scene Great Gift Card Giveaway – February 2021
Because… we could all use a gift! New on The Milton Scene – Sign up for The Milton Scene Daily Newsletter and you'll be entered into a drawing for a gift card to a local business.
This month's featured business is the plate: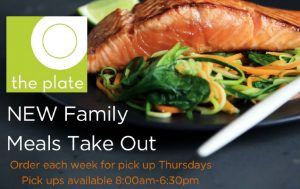 Seriously delicious, fresh, and imaginative. These are just a few ways to describe the food served up at the plate, a local Milton business that has been delighting customers since 2012.
When Milton Marketplace approached us with the idea of bringing the plate and its yummy goodness to East Milton, we jumped at the chance. the plate @ milton marketplace opened its doors on January 5, 2016, and was quickly embraced by the community. Located on the second floor of the Milton Marketplace building, the space features lots of natural sunlight, plenty of indoor seating including a new spacious outdoor patio.
the plate is a small neighborhood food shop, restaurant-cafe that offers espresso drinks, freshly made juices, delicious handcrafted sandwiches, soups, salads, grain bowls, prepared foods + homey baked goods. All of our food is prepared in-house from scratch, our recipes vary with the seasons and are made and served by people passionate about food. We are currently open Tuesday- Saturday 8:00 a.m. until 3:00 p.m. for breakfast and lunch, plus take home dinners on Thursday nights.
How to Participate:
Gift Card Winners… will be announced monthly on The Milton Scene and in Milton Neighbors!
The Milton Scene Daily Newsletter shares news stories, local events, special deals, and more.
It arrives FREE every day at 6 a.m. – in your inbox!
If you are already a subscriber, you'll be entered into the drawing. If you're not – or if you're not sure – sign up below.
🎁 ONLY current newsletter subscribers will be eligible for the gift card drawing.🎁
It's easy! Just sign up here:
*indicates required