Gay Milton couple creates fundraiser & awareness movement after years of harassment – Milton Scene Special Report
Members of the Milton Neighbors Facebook Group probably recall this Milton Neighbors thread from this past May about two longtime residents, LeeMichael McLean and Bryan Furze, being harassed for five years by a homophobic neighbor: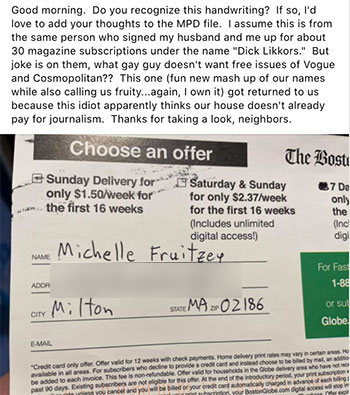 The outpouring of support in the thread was both heart-warming and, as McLean described, emotionally taxing. One good samaritan took action and through a FOIA request of recent Town election records, was able to match the handwriting of a close neighbor of the couple.
This resident was then approached by Milton police, taken into custody, and questioned. He eventually admitted to harassing the couple "as a prank" and in a stunningly crass response to the way the couple voted and opined as [gay] public officials. The detective referred the matter as a suspected case of criminal harassment to the Quincy Court.
People who are familiar with Bryan & LeeMichael know that they are caring, active, passionate, and not ones to wallow in negativity. And even though the culmination of the harassment and the response from the community has been emotionally overwhelming, they have decided to create a fundraising and bullying awareness movement out of this experience. To date, the couple has raised over $12,000 in #iammichellefruitzey t shirts to be donated to Milton Public School's Gay Straight Alliance.
The Milton Scene and Milton Neighbors founder Melissa Fassel Dunn interviews the couple in this Special Milton Scene Report, with generous help from Milton Access TV.
Hear the story about the movement in this Milton Scene #iammichellefruitzey Special Report:
"When you don't stand up to a bully, it makes it harder for the next person who is getting bullied to stand up for themselves. And so, if you take a stand, that tells the bullies, 'maybe I shouldn't be doing this' and it tells other people, 'I should stand up, too.' And so, by owning it, we were able to take action and feel some sort of sense of closure." – LeeMichael McLean
And this is how Milton's wonderful community has responded:
How to order:
Visit fundly.com/iammichellefruitzey to donate and order.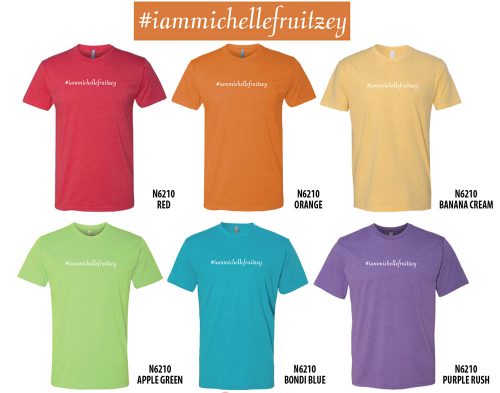 Shirts are available in the colors shown in the photo above in sizes ranging from youth sizes through XXXXXXL. Shirts are $30 each with ALL proceeds going to the Gay Straight Alliance at Milton High School and Pierce Middle School. For those able and willing, please feel free to add $5.00 to your order to cover the fees of the fundraising website. Shirts will be delivered in 2-4 weeks. 
Ordering instructions:
Visit fundly.com/iammichellefruitzey and donate $30 per shirt and an optional $5.00 per order to help cover fees.
Include in the Fundly donation NOTES section your t-shirt order – including address and t-shirt(s) (color(s) & size(s).
Send an email to

[email protected]

with your t-shirt order including address and your t-shirt(s) (color(s), size(s)
T shirts will be delivered in 2-4 weeks.
Wear your t-shirt proudly and enjoy!
Please share far and wide – let's help Michelle Fruitzey end bullying!