I tried the fitness Mirror for a year – Random Review
Last Christmas, in the middle of the pandemic (wait, maybe we're still in the middle?) and missing the gym, I asked Santa for the workout Mirror – and he delivered.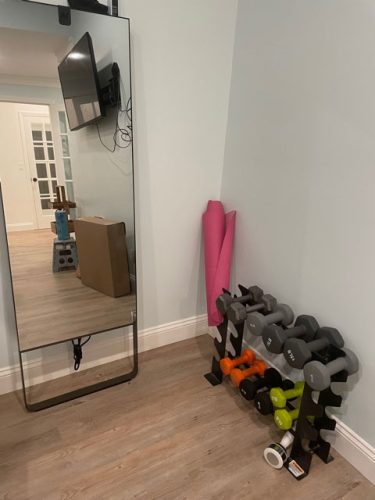 Just about a year later, I am still very happy with my gift.
Here's how it works:
Your Mirror is delivered and installed by a professional. They will either mount it to your wall using a wall mount system, or mount it so that it is at an angle, using only a single screw.
You need a WiFi connection in order for it to work and they don't leave until it is fully set up and working. You then download the mirror app and connect it to the device.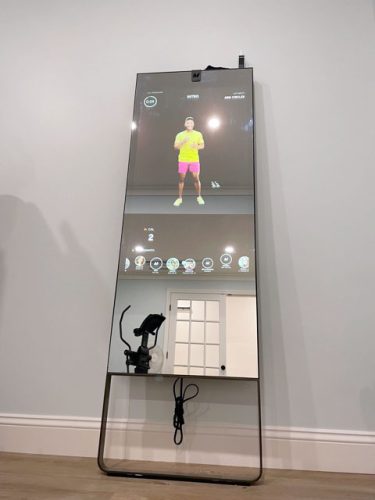 There are a huge variety of workouts and some require basic essentials like handheld weights, resistance bands, and a mat.
Don't forget to sign up for Rakuten to earn 5% cash back on this purchase (or more!)
Pros:
Small. It's literally the size of a full-length mirror.
Attractive. It looks like a regular full-length mirror and is very unobtrusive in a bedroom, living room, etc.
HUGE variety of workouts and new workouts added daily. Workout categories include:

Barre
Boxing
Cardio
Chair
Competitive
Dance
Family fun
Kickboxing
Meditation
Plates
Pre/Postnatal
Strength – with weights, bands, or body weight
Stretch
Tai chi
Toning
Yoga

Choice of workout length options from 5 to 60 minutes.
Live workouts – about 25 live workouts daily starting at 5:00 a.m. It's pretty neat when you get a shout-out from the instructors and is also great for simulating that in-person feel.
Option to turn on your camera so instructors can advise on your form during the live workouts.
Personal training available, using the built-in camera for $40 per session.
You can change the workout music to your own preference, right in the app.
Control the volume of the music and the volume of the instructor separately.
Track your heartbeat, etc. with your Apple watch.
Connect with friends who own a Mirror for a little friendly competition or encouragement!
Use the Mirror workouts even when you're not in front of the mirror, for an on-the-go workout.
You can share the Mirror app with up to six people.
For me, the biggest pros are the massive variety of workouts with different lengths (5-60 minutes) and the different music. You can literally do a new workout every day for all of eternity, or you can repeat favorites.
If you repeat favorites, the music is never the same and they have different channels of music to choose from.
I also love being able to use the app when I am traveling.
Here's a quick video of the app, showing the workout options, filters, and more:
Cons:
I miss the in-person experience and camaraderie of a gym (shout out to Milton's fine gyms!).
$39/month fee (still a lot less money than most gyms and your first month is included for free)
Does not work with many fitness trackers, including FitBit.
The biggest con for me is missing gym workout buddies. But with the pandemic being here for the foreseeable future, many folks are not comfortable going to a gym.
Plus, with winter en route, it's nice to be able to work out at home.
Right now, the Mirror is offering a huge deal of $700 off the original price.
Click to use this special referral link and code LLSTUDIO700 to save $700!  Expires Jan. 1, 2023.
That's more than half off!
*Because this is a referral link, I will earn a small commission at no additional cost to you, and you will save $700.