What's happening, Milton? November 26-December 2, Small Business Saturday!
Are you looking for something fun to do this weekend and next week? We have you covered!
Don't forget about Small Business Saturday, an easy way to benefit our community! Small Businesses are at the core of every successful neighborhood, so shop early & shop often! Milton Chamber of Commerce | Facebook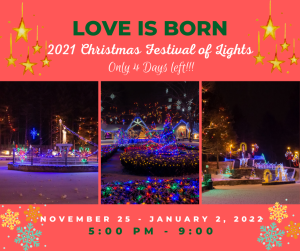 La Salette Christmas Festival of Lights
Thursday, November 25 – Friday, January 2, 2022 5:00 p.m. – 9:00 p.m.
947 Park Street, Attleboro, MA 02703
For more information, please click here: 2021 Christmas Festival of LIGHTS – National Shrine of Our Lady La Salette – Attleboro, MA (lasaletteattleboroshrine.org)
Magic of Lights
Friday November 19 – Friday December 24, 2021 5:00 p.m.-10:00 p.m.
Gillette Stadium, One Patriot Place, Foxboro MA 02035
For more information, please click here: Magic Of Lights – Gillette Stadium
The Kilroy Square Holiday Market
Friday November 26, 4:00 p.m. – 9:00 p.m.
Saturday November 27, 11:00 a.m. – 4:00 p.m.
Sunday November 28, 11:00 am. – 4:00 p.m.
Kilroy Square, 25 Cottage Avenue (Next to The Fours), Quincy, MA 02169
For more information, please click here: Quincy Square Market
Toys for Tots
🎁Toys for Tots, put on by the Marine Corps with help from sponsors including the Massachusetts State Police, provides new toys for children who otherwise might not have anything under the tree this holiday season. Many towns and cities in Massachusetts have multiple locations where you can drop off a new toy. You can click here to find a drop off location near you: Marine Toys for Tots
What's happening with you?
Got a nonprofit or community event to share with us? Email us at [email protected].
If you haven't yet, please consider joining our Milton Neighbors Facebook group, where you will find up to date information regarding Milton news, events, and resources! To join, just click here: https://www.facebook.com/groups/miltonneighbors