Opinion: Boston needs Tufts Children's Hospital
Greater Boston just got word of another hospital closing. On January 20th, Tufts announced that the Tufts Children's Hospital will close.
This closure will disproportionately affect our children.
And not only children, but largely underserved children of immigrant and minority backgrounds. Tufts Children's delivers a special type of care to a mixed but generally underserved pediatric population. It is not replaceable. The greater Boston area will not be the same.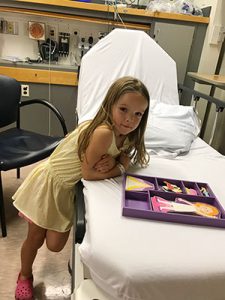 As a parent of three kids, I have (unfortunately) experienced care at four different children's hospitals in New England, and of the four, nothing compares to Tufts. It's difficult to quantify the reason – but the best way I can explain it is the doctors and staff at what has historically and affectionately been known "the Floating" are 100% genuine, dedicated beyond compare, and choose to work at Tufts not only because they prefer to help their traditionally underserved community, but because they want to go the extra mile with compassionate, highly personalized healthcare.
It is a smaller, less overwhelming hospital than Boston Children's, and has a convenient location in the city as well as satellite offices in Lawrence, Lowell, Brockton, and Framingham.
I am worried about what is going to happen.
I'm worried that Boston will lose these exceptional, dedicated physicians and nurses and that all children will now experience the "wow, your kid is an interesting research specimen!" feeling that I always got from Children's. (I, of course, fully recognize that this isn't every parent's experience and many, many children receive exceptional care at Boston's behemoth pediatric hospital.)
I am also angry because this is a permanent solution to a short term problem, one in which "adult covid beds" are used as an excuse for a large urban hospital to rid itself of its pediatric specialties in order to make more money.
Boston is presently lacking in adult beds. Medical teams are understandably exhausted and frustrated and hospitals need more beds as a result of the influx of COVID patients.
Our state and federal government should be stepping up with short term solutions to a short term problem. Why isn't the National Guard setting up temporary hospitals?
Why do adults who choose not to get vaccines get to kick kids with cancer out of their hospital?
Additionally, one can only assume that while the number of regular money-making procedures like knee replacements have decreased due to the pandemic, one way for hospitals to earn more money is to serve more adult patients who have severe COVID.
According to Centers for Medicaid and Medicaid Service, "per person personal health care spending for the 65 and older population was $19,098 in 2014, over 5 times higher than spending per child ($3,749) and almost 3 times the spending per working-age person ($7,153)."
In other words, adult care garners more money than children's care.
So this "short term problem" solution will ultimately and conveniently earn Tufts more money. From June-November 2021 (pre-Omicron variant), preventable COVID-19 hospitalizations among unvaccinated adults cost around $20,000 per person, or over $13 billion total. (Source: healthysystemtracker.org.)
Treating these types of patients must be awfully good for institutional financial security.
And if pandemic-related hospital financial problems are also contributing to Tufts closing, why do airlines get bailouts from government but hospitals do not?
Where do our priorities lie when money is more important than critical care for our children?
And why are unvaccinated adults' needs coming before those of innocent kids?
And what will our children be left with when the pandemic is over?
If you disagree with the abrupt closure of an iconic and historic children's hospital that has been treating Boston's little ones for over 100 years, if you disagree with putting a price tag on beds and prioritizing the care of adults at the cost of children (our FUTURE), please consider taking action:
Contact Governor Baker: www.mass.gov/forms/email-the-governors-office
Contact your legislator and let him/her/them know your concerns: malegislature.gov/search/findmylegislator
Contact Boston Mayor Michelle Wu: boston.gov/departments/mayors-office
Contact Attorney General Maura Healey with your concerns: mass.gov/orgs/office-of-attorney-general-maura-healey
Join the "Keep Tufts Children's Hospital OPEN!" Facebook group: https://www.facebook.com/groups/635935081078966
Sign (and share) this petition from Tommy's Place founder Tim O'Connell:  change.org/p/save-tufts-children-s-hospital-in-boston
🧵Floating's closing is indicative of how our society underinvests in children since they don't have a robust short-term ROI. But children are 100% our future. From inequitable insurance reimbursement to fragile social safety net, to the child tax credit ending, the list goes on.

— Arvin Garg, MD, MPH (@ArvinGargMD) January 21, 2022
I fear we are entering a sad era in healthcare, with medical centers prioritizing the bottom line above the care of our most vulnerable children. #KidsDeserveBetter 🧵4 pic.twitter.com/yRlCZj5ou4

— Jana Leary (@JanaLearyMD) January 24, 2022
💔Closure of pediatrics @TuftsMedicalCtr brings to mind the tragedy of Hahnemann's closure in #Philadelphia as described by @KevinDMello2 in @JHospMedicine

🏥 https://t.co/AJWGfQtshW pic.twitter.com/BOafasLv3J

— Samir S. Shah (@SamirShahMD) January 21, 2022
Pediatric hospital care is under siege. COVID has exacerbated the already large challenges of providing inpatient hospital care. As Dan Rauch and I wrote last year (and will be speaking at @PASMeeting in April) – will there be a future in community PHM? https://t.co/nWQQN3IIBc https://t.co/zTUn5fD7Dk

— Scott Krugman, MD (@Dr_ScottK) January 20, 2022
"America: Let it be known that caring for kids is not a 'moneymaker' & this is a consequence of chronically underfunding child health" @DrScottHadland. Yes!! https://t.co/lJJdyh8o6o

— Dr. Sarah McCarthy (@drsarahmccarthy) January 24, 2022
– Contributed by Melissa Fassel Dunn, Editor, The Milton Scene.
This article has been modified slightly to include additional content.