Land swap proposed by Milton School Building Committee as location for new school
The following update was shared by Sean O'Rourke of the Milton School Building Committee.
As many of you are aware by now, the Milton School Building Committee (SBC) has identified a parcel of land to construct a new school along the lower end of Gile Road at Blue Hills Parkway. The endeavor to identify a parcel of land within a town with a shortage of available parcels, portrays the amount of hard work performed by this committee over the past 3 years and their commitment to address the overcrowding currently being experienced in the schools. As chair of this committee, I'm proud of the work that has been accomplished to date and the manner at which my committee has interacted with all participants in this process.
After an exhaustive search for land, the SBC has received approval of the following committees/boards of the Town of Milton
Warrant Committee – Voted to Recommend
Conservation Commission: Voted 6-1 in Favor
Select Board: Voted Unanimous 4-0 in Favor
Parks Commissioners: Voted Unanimous 3-0 in Favor
School Committee: Voted Unanimous 6-0
These votes are the first step in a process within Article 97 that allows a Town to take conservation land out of the conservation restriction but convert other land to conservation land.
This land swap will be voted on at the upcoming Town Meeting (Article 34 – Land Swap).
The overall process and facts of this matter are complicated and may have been distorted due to their complexity at times, therefore the SBC has developed this fact sheet for reference.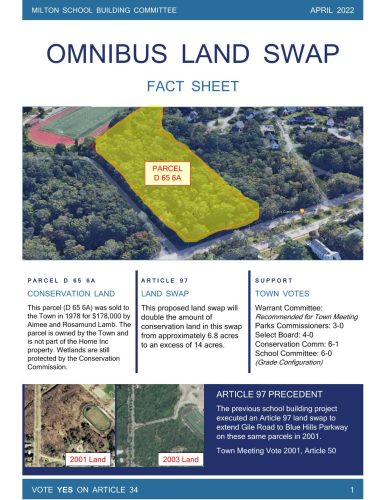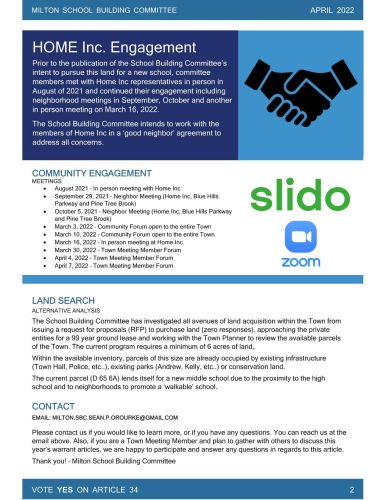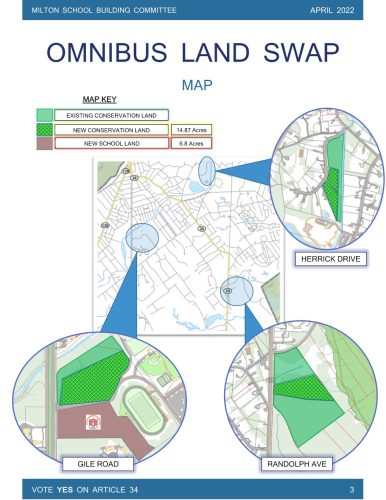 Leading up to Town Meeting, we will be distributing additional information to allow the public to become educated on the facts of the work of the SBC.
Thank you,
Sean O'Rourke
Chair, Milton School Building Committee