Milton Pride Parade to take place Sunday, June 11, 2023
Drive in the caravan or spectate along the route!
4:00 p.m. – Decorated vehicles meet at Pierce Middle School.
Spectators set up along route (Reedsdale Road, Canton Avenue, Blue Hill Parkway, Brook Road, Canton Avenue).
4:30 p.m. – Caravan departs Pierce and drives in a slow roll. Meets up again to end at Pierce.
What is Pride Month?
Welcome to the kaleidoscopic extravaganza known as Pride Month! Brace yourself for a rainbow explosion of love, laughter, and all-around fabulousness all June. This month-long celebration is like a glitter bomb of LGBTQ+ joy, empowering people of all sexual orientations and gender identities to embrace their true selves and strut their stuff!
Picture a world drenched in vibrant colors, where sequins, feathers, and rainbows reign supreme. Pride Month is a time to rock your boldest attire, from flamboyant tutus to bedazzled top hats, because in this fantastical realm, there's no such thing as "too much sparkle."
As the sun-soaked days roll in, cities come alive with parades that transform streets into a pulsating sea of music, dancing, and unapologetic self-expression. Floats adorned with glittering unicorns and fabulous drag queens glide through the crowds, while bystanders cheer with unrivaled enthusiasm. The air is electric with love, acceptance, and the shared belief that everyone deserves to be celebrated for exactly who they are.
But Pride Month isn't just about flamboyant parties; it's a powerful reminder of the ongoing fight for equality. It's a time to honor the pioneers who paved the way, whose bravery and resilience continue to inspire us. It's an opportunity to raise awareness, educate, and foster understanding, because love knows no boundaries and ignorance has no place in this radiant celebration.
So, let your true colors shine this Pride Month, for it's a joyous carnival of diversity and unity. Embrace your uniqueness, spread love, and dance to the beat of your authentic self. Remember, in this kaleidoscope of celebration, love is love, and love always wins!
Key pride gear:
Milton is a family community specialty gear, benefiting the #iammichellefruitzey fund:
Check out the full collection here, which includes T shirts for adults and kids, onesies, aprons, mugs, yard signs, flags, and more!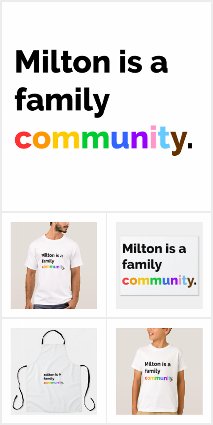 Mini flags:
Keychains:
Flag & wristband set:
Rainbow feathered headbands:
Rainbow heart glasses:
"Sounds gay, I'm in" shirt:
PRIDE wristbands:
Rainbow sunflower headband:
Rainbow bunting flag:
Rainbow boas:
*This article may contain affiliate links, meaning we make a few pennies and you do not pay any additional amounts.