Harry's Carpet One Floor & Home: A legacy of quality flooring for 96 years + Special Offer for readers!
Read on for a special offer!
In the heart of Quincy, Massachusetts, a flooring legacy spanning nearly a century thrives.
Harry's Carpet One Floor & Home, a family-owned and operated business, has been providing the South Shore and Greater Boston area with top-notch floor coverings for 96 years.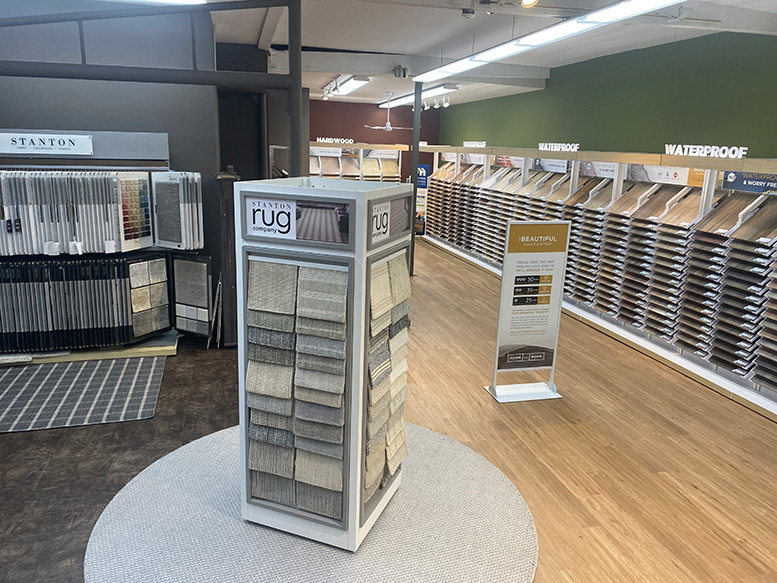 A legacy of quality
This winner of the 2023 Milton Neighbors Choice Awards for favorite carpet installer specializes in floor coverings of all kinds. From plush carpets to luxurious LVT (luxury vinyl tile), durable laminate flooring to exquisite pre-finished hardwood, they cater to both residential clients and commercial and property management accounts.
Their expertise in the field is unparalleled, with each team member boasting between 17 to 40+ years of experience and a commitment to staying updated on the latest flooring technologies and products.
What truly makes Harry's Carpet One Floor & Home special, however, is their dedicated staff. Unlike many others in the industry, they do not operate on commission, eliminating any sales pressure for their customers. Instead, the focus is on providing the best solutions for each client's unique needs.
Harry's Carpet One Floor & Home is also part of the Carpet One cooperative, which empowers independent floor covering businesses by pooling their buying power with over 1,000 other businesses. This enables them to offer a "Beautiful Guarantee" on many of their products, assuring customers that if they don't like the color or style of their flooring, it will be replaced free of charge.
Customer-centric approach
At the core of Harry's Carpet One Floor & Home's success is their deep appreciation for their customers. They love that their clients come well-informed, often armed with insightful questions. The team takes pride in educating customers, enabling them to make informed decisions about their flooring choices.
It's also heartwarming for them when customers share stories about their parents and grandparents purchasing linoleum and rugs from Harry's family business, which began as Harry's Linoleum, Tile & Carpet Co.
One of the most sought-after products among their customers is Luxury Vinyl Tile (LVT), known for its hardwood-like appearance with the practicality of vinyl. Yet, Harry's Carpet One Floor & Home doesn't push any specific product; instead, they prioritize finding the perfect fit for each customer's needs.
A business built on relationships
For the team at Harry's Carpet One Floor & Home, the best part of owning and running this business is the people. Generations of repeat customers have become like old friends, forming a community that spans almost a century.
The business's roots in the Greater Boston area run deep, dating back to its humble beginnings during the Depression era. Over time, the business moved alongside its customer base, ultimately settling in Wollaston in 1981, where they have remained ever since.
As for advice, they encourage customers and fellow business owners to always compare products carefully, emphasizing that not all products that look similar are of the same quality.
10% off – Special Offer for Milton Scene readers!
For readers interested in working with Harry's Carpet One Floor & Home, the business extends a special offer of 10% off when mentioning The Milton Scene.*
Harry's Carpet One Floor & Home is more than just a flooring store; it's a cherished institution that has thrived through generations, built on a foundation of trust, quality, and unwavering dedication to its customers. With 96 years under their belt, there's no doubt that Harry's Carpet One Floor & Home will continue to be a cornerstone of the community for years to come.
Get in touch:
676 Hancock St., Quincy, MA 02170
Hours:
Monday – Friday: 9:00 a.m. – 5:00 p.m.
Saturday: 9:00 a.m. – 1:00p.m.
Sunday: Closed
Phone: 617-752-3272
Web: www.HarrysCarpetOneQuincy.com
Facebook: facebook.com/harryscarpetone
Instagram: harrys_carpet_one
---
**Applies to materials only. Excludes sales and promotionally priced goods. Not valid on prior purchases.
Offer expires November 22, 2023