Free Basic Business Listing
Our basic business listings* include your name, phone number, and address of your business.
Businesses included in the recommended experts section of the Milton Scene have the opportunity to upgrade their listing to premium.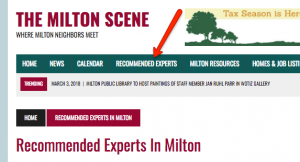 A link to your business's website.
A link to your business's Facebook page.
A link to your business's Twitter profile.
A link to your business's Instagram profile.
Up to 150 words describing your business.
Custom image with your business name and/or existing logo.
So, what's the catch?
You must have at least one positive prior-customer review in order to add your free listing. Please submit this to us within 10 days of filling out the form below.
To get your free basic business listing started, please fill out this form:
If you have any questions, please email info@miltonscene.com.
Don't forget to ask customers and clients to review your business! No login is required and it only takes a minute: www.miltonscene.com/resources/review
*While we make every effort to include your listing on our site, if we do not have a category for it, we might not be able to list it.