Milton American Baseball's 2nd annual season kickoff party to take place Mar. 25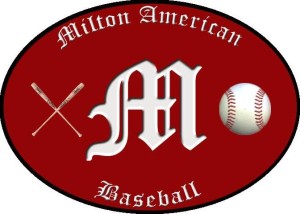 Milton American Baseball's 2nd annual season kickoff party will be held on Friday, March 25th starting at 7:00 p.m. upstairs at the Common Market in Quincy.  The event will feature light appetizers, a cash bar, raffle items, and live music entertainment by local favorites The Old Brigade.
This is a great way to shift into baseball mode, and support local youth sports.  All proceeds raised are used to improve playing facilities in town to benefit all sports programs.  Past fundraising efforts have allowed us to install 7 new batting cages in town, with this year's focus shifting to field improvements.
Tickets cost $20 and are available on our website at www.miltonamericanbaseball.org.  A limited quantity of tickets will be availabe at the door for $25 each.  We are also soliciting items for this year's raffle.
Please email the league with any questions at [email protected]
About Milton American
Milton American Baseball, an affiliate of Cal Ripken Baseball, is a non-profit, volunteer run youth baseball league for Milton residents living east of Randolph Avenue.  We have operated continuously for over 60 years.   Our mission is:  To develop and promote the sport of baseball among individuals under 13 years of age in the Town of Milton, Massachusetts; To provide educational opportunities, workshops, and coaching to children and youth regarding baseball, and to teach sportsmanlike conduct;   To encourage the social, physical, and emotional growth of children and youth; and To maintain and improve publicly owned baseball parks and playing fields in Milton, Massachusetts.
MAB is a recognized 501(c)3 charitable organization.  Our Federal Tax ID is 46-3319641.