*Back-to-School Special: Free 30-minute tutoring session!*
Ensure success this school year with ES Tutoring & Consulting
Start the school year strong with study skills and writing support for your middle or high school child. Private tutoring will give your child an academic edge and ensure he or she has the strong foundation of skills needed to navigate middle and high school.
Eliza Wagner Srestha, founder of ES Tutoring & Consulting, offers academic coaching for teens and pre-teens, providing customized instruction based on each student's needs, goals, and learning style. Helping students to understand and harness their strengths in order to overcome their challenges, Eliza's students quickly gain the skills and independence they need to succeed. She works with students on writing and grammar skills as well as organization and executive functioning strategies.
"The strategies you're teaching him are really helping. Seeing improvement and realizing he can do well by putting in the effort has boosted his confidence. That, to me, is most important! A good grade is great but seeing the pride on his face today when he got his paper back made me happy." -Parent of a Milton High School student
A veteran educator with 16 years of teaching experience and a master's degree in education, Eliza has taught middle and high school English and History and is especially skilled at working with students with mild to moderate learning disabilities. Eliza coaches students in their homes, at the Milton library, or online via Skype and Google Drive.
*Back-to-School Special for Milton Scene readers!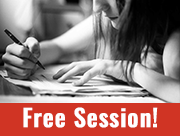 Sign up now for a free 30-minute consultation and goal-setting session, offered at 2:30 and 3:00 on Tuesdays and Thursdays at the Milton Library. Email [email protected] and mention The Milton Scene to schedule your free session. Learn more about who we are and what we do.