Governor Hutchinson's Field to hold Solstice Illumination Night for the darkest day of the year
When: Thursday, December 21st, 2017 at 6:00 p.m. – 8:00 p.m.
Where: Governor Hutchinson's Field, 225 Adams Street, Milton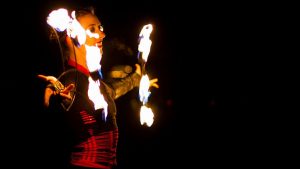 Come welcome the return of the sun and brighten the darkest day of the year with a community celebration! Enjoy a fire dance performance by Ember Flynne, make hot dogs and s'mores around the campfire, and sip some hot chocolate. Feel free to bring blankets and lawn chairs. Dress warmly and invite your friends! More information: [email protected]; 617-542-7696 x2115.
https://www.facebook.com/events/1425804120866713/
http://www.thetrustees.org/things-to-do/greater-boston/event-35724.html
About the solstice:
The winter solstice is the shortest day of the year, and marks the time when the days begin getting longer again. It has been widely celebrated with a midwinter festival and rituals throughout human history since Neolithic times.  Many of the traditions we associate with Christmas are derived from the norther European pagan solstice holiday known as "Yule." The solstice was also celebrated in ancient Japan, Iran, and Syria, among many other places. The themes of reversal and rebirth figure in many solstice traditions. Fires were often lit to symbolize the heat and light of the returning sun, and this celebration, along with others that the Trustees hosts across the state, carries on that tradition.
It can be easy to hunker down and stay indoors in the winter, but there is so much natural beauty here in Massachusetts at all times of year, and people are healthier and happier if they get outside and enjoy it. Being outdoors can be joyful and exhilarating, even—sometimes especially–in the dark. All it takes is a positive attitude and the right clothes for the weather! A fire always helps, too.
Marking the solstice is a way of paying attention to what's going on in the natural world, and anyone, regardless of religious beliefs, can take part in a solstice celebration.