Milton Neighbor Allegra Murray peddles her petals on Broad Appeal
About this episode:
Allegra Murray of the Petal Peddler's Shop is the guest on this episode of "Broad Appeal." A Milton entrepreneur, Allegra and Melissa chat about how her crafting genius has evolved into a business
About our guest:
The Petal Peddler's Shop is a home-based craft business in Milton, Massachusetts. Through her business, Allegra handcrafts flowers from unique paper like book pages, sheet music, and vintage street maps. These flowers are then sold by the stem or incorporated into one-of-a kind jewelry, pens, hair clips, and more.
The Petal Peddler's Shop bloomed (pun intended!) from Allegra's volunteer work with the Friends of the Milton Public Library.
The Twist
Melissa shows us how to make an easy moscow mule.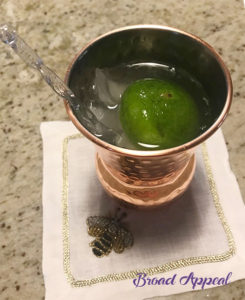 How to watch:
Watch the latest episode here.
"Broad Appeal" is currently airing on the Public channel (Comcast 9/RCN 13) every Tuesday evening at 8 p.m. and Thursday morning at 9 a.m., with new episodes each month.
Find out more at www.broadappealtv.com.
Follow Broad Appeal on Instagram.