Bring Japan to your home this summer! – free summer cultural program for families in Milton, MA
Explore Japan Program seeking families living in Massachusetts to participate in this year's Girls Summer Program

Summer vacation for a lot of families in the Boston area includes taking in ball games, museums, boat rides, and a range of fair-weather activities. For you, it could mean doing all that with a Japanese exchange student along for the cultural ride for 2.5 weeks!
The Explore Japan Program is seeking families living in Massachusetts yet again to participate in this year's Girls Summer Program which starts on July 22 and ends on August 7, 2019.
Participating families are of diverse background, color and ethnicity. In addition to Milton, participating host families come from other MA communities such as Abington, Braintree, Canton, Dedham, Dorchester, Hingham, Needham, Norwood, Quincy, Sharon, Stoughton, Walpole, Westwood, West Roxbury, Weymouth and as far as Clinton, Peabody, Wakefield and Worcester. Everyone is welcome!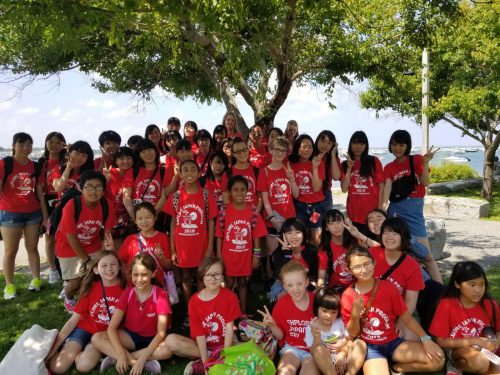 These families will host visiting female Japanese high school students ages 15-17. In exchange for hosting a Japanese student, families can send one of their daughters to participate in the daily program activities for FREE!
One of our participating families, Moira and Bob Sweetland of Canton, hosted 15-year-old Miyu Ikuta as part of Explore Japan Program. Their child Grace, 9, also participated in the program. The family had this to say:
"It was a pleasure to meet and share part of the summer with Miyu," Moira said. "We found the Explore Japan Program to be well organized and it was a wonderful opportunity for our family to experience another culture. My children met new friends at camp, both American and Japanese, and learned a lot about the Japanese culture. Plus, they really enjoyed the field trips!"
Now on its 26th year, Explore Japan Girls Summer Cultural Program has proven to be a unique and rewarding experience for local host families. Under the supervision of Japanese experts, day-long activities will be scheduled for the students. Some of these amazing activities include workshops on Japanese language, arts and crafts, cooking, calligraphy and a variety of interesting cultural exercises, as well as a number of field trips to places like the MFA, Canobie Lake Park, and many more!!
The program venue is at Pierce Middle School in Milton, MA. Program activities are scheduled Mondays to Fridays, 9:00 a.m. to 4:00 p.m., while the weekend is free time for families to spend quality time with their visiting student.
Host families are responsible for transportation between student's homestay location and Pierce Middle School. The earliest drop off time for Pierce is 8:00 a.m. while pickup time is 4:00 p.m. Families must provide breakfasts, lunches and dinners each day to their child and visiting Japanese student.
For more information about Explore Japan:
Explore Japan is presented by Adz Group, an international education company. You can submit your application on our website at https://www.americanlearning.com/explore-japan-application. For more information, contact us at 617-996-0622 or explorejapan@americanlearning.com. There are a limited number of slots so apply now!
Early Bird Special: $25-$150 Amazon gift cards are available to those who apply by April 30. Gift cards will be given to the families upon completion of the program.
Deadline of registration is on May 31, 2019.
We can't wait to see you there!