Meet Christine Paxhia, owner of Brush Hill Garden Guru
Learn about Brush Hill Garden Guru, a floral design business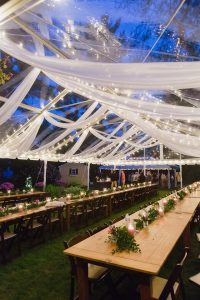 Christine Paxhia is the owner of Brush Hill Garden Guru, a floral design business located right here in Milton. Check out this interview to learn more about the services Christine offers and the types of clients she works with!
How did you get started in this business?
I have always loved flowers, plants and gardening. People along the way were always asking me advice on how to grow things and what to plant. After a 30 year career in consumer product sales and pharmaceutical sales, I decided to change careers and reinvent myself. I enrolled in the Master Gardener Program and started a garden coaching / design business. That business has evolved into floral design. I started my company in 2012.
What are some lessons you've learned while in business?
Like a garden, a business takes patience, skills, organization and the ability to laugh at your mistakes.
Have you always worked in this type of business or have you dabbled in other things? Please describe.
I was in sales and sales management for a major consumer product organization. From there, I moved on to Big Pharma where I wore a suit and pumps every day calling on doctors, hospitals and pharmacies in the Boston area. I spent hours in a car driving from one account to the next. Now I get to color a person's world in the garden and in the flowers!
If you could provide advice to anyone looking to start a business in the area, what would it be?
If you love something and have a passion for it, go for it. It's so much more fun when you get to do something you love. I love creating the ideal wedding flowers for a bride.
Please describe your favorite or ideal customer.
My favorite customer is a customer who trusts my judgement. For a wedding, if they provide me the color scheme, I can select the most beautiful arrangements with the colors they want. I don't use inexpensive fillers. Each arrangement is a work of art.
What is your #1 tip for other business owners? (For example a favorite app, daily practice, way of interacting with customers, etc.)?
I give a personal touch to all of my clients. For brides, I love to take them to see what the flower market looks like. They get to see the colors, the forms and the lovely fragrances of the flowers.
What's your favorite local business to support (besides your own!)?
I like to support any of the Milton-based businesses. Comfy Cozy Pet Sitting is one of my Favorite!
To get in touch with Christine and Brush Hill Garden Guru:
Please feel free to reach out to her through any of the following ways: