Warrant Committee Update: School Budget shortfall in excess of $2.5 million
The Warrant Committee could not convene the scheduled Dec. 9 meeting due to the lack of a quorum. Eight members of the committee needed to be present. Seven of the fifteen members including the Chair were present and two members gave prior notice of their inability to attend.
The school budget was scheduled to be discussed following presentations from the School Committee and administration. They did present the Warrant Committee with the school's detailed budget proposal. The presentations were rescheduled to Monday, Dec 16 where the Town Administrator and Town Accountant will also present preliminary town budget proposals.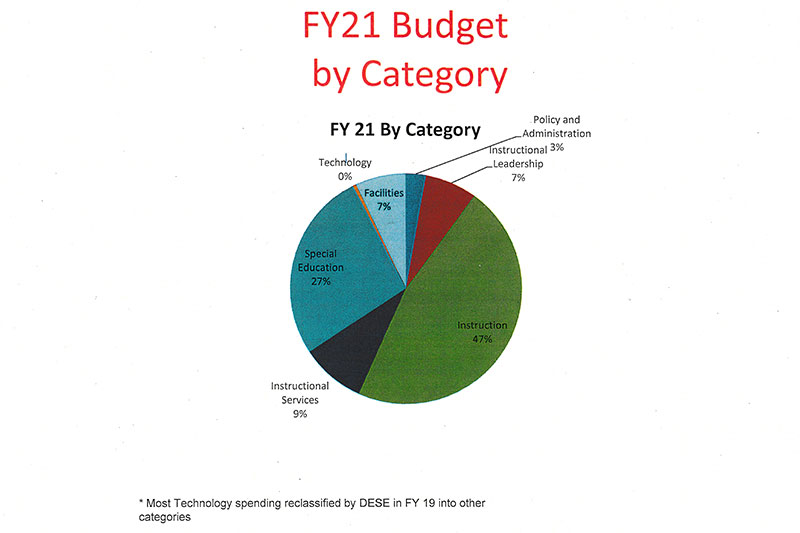 Based on the copy of the budget given to the Warrant Committee, the school budget requests $53,717,500 for Fiscal Year 21. The current school budget is $51,028,200. The additional $2,689,300 for the new year covers only mandated increases such as from collective bargaining agreements and special education costs. It does not include funding for any additional staff.
The School Committee and administration would like to see additional staff including restoring the previously cut technology teacher, an elementary teacher, elementary research aide, middle school language teacher, middle school guidance counselor, restoration of previously cut 0.6 fte elective teachers, three high school teachers, and an Assistant Director of Special Education. The schools also need an additional school bus and funding to restore high school clubs and activities.
The presentation points out that if the schools are subject to possible cuts as the rest of the town budget a 3% reduction (or $1.59 million) would result in laying off about 25 full time staff. The summation did not mention if the 25 would only be classroom teachers.
Updates on the need for expanding school facilities was anticipated as part of the presentation. The schools are under significant enrollment pressure. Information included in the budget proposal shows increases in student enrollment which do appear to level off starting in 2022.
Members of the School Committee and administration agreed with the Warrant Committee Chair that presentations could be postponed to the next meeting. The Chair apologized to them, the committee members, and the audience for the lack of a quorum. The School Committee's and administration's patience and cooperation was greatly appreciated.
The entire school budget proposal with explanations and opportunities for questions by the Warrant Committee is due on Dec. 16.
Residents who cannot attend the hearing can email Warrant Committee members with their questions for the School Committee.
-Contributed by Doug Scibeck.