Good Stuff: Sunday, April 5, 2020
The funny
TP ART!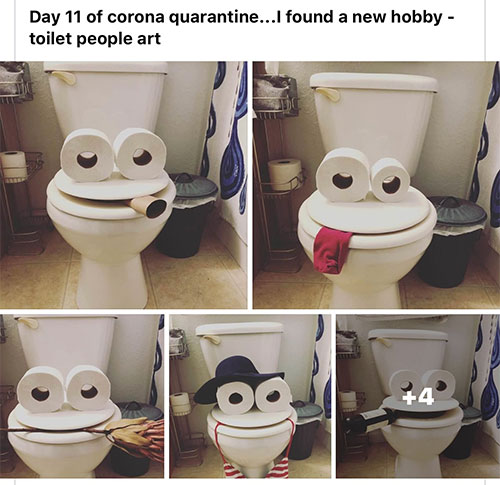 The inspirational
Texas Roadhouse CEO gives up salary, bonus to pay front-line workers.
The feel good
Did you see this story about the Brooklyn guy who saw a girl dancing on her roof and asked her out?
Spoiler alert: she said yes! Click here to read the feel-good story.
The fun for all ages
So maybe you're failing at homeschooling (confession: most of us are), but the Melissa & Doug Suspend Family Game will at least help with developing coordination and STEM skills! Plus, it's under $20!
The entertaining
Up for family movie night? Check out Onward, available now on Amazon Prime. In this delightful film, elf brothers, Ian (voice of Tom Holland) and Barley (voice of Chris Pratt), get to spend a day with their late dad and go on a quest aboard Barley's epic van Guinevere. When their mom Laurel (voice of Julia Louis-Dreyfus) realizes her sons are gone, she teams up with The Manticore (voice of Octavia Spencer) to find them.
The yummy
Local favorite Steel & Rye posts offerings almost every day on their Facebook page.
The Milton Scene will be posting "good stuff" to help keep Milton Neighbors' spirits up during the crisis.
Do you have "good stuff"?
Please: share it in the comments, tweet or share it with the hashtag #goodstuff
---
Note: *This post may contain affiliate links. I receive a small amount of compensation when you purchase from these links, which I'll totally blow on limes, mint, and rum.