MSAPC presents: Hidden in Plain Sight, with Stormy Leung and Mary Cole, Wed. May 20
Join your Milton neighbors on Wednesday, May 20th at 7:00 p.m., the Milton Substance Abuse Prevention Coalition presents a webinar for parents and other caregivers titled, "Hidden in Plain Sight".
The situation presented to us by COVID-19 comes at a time when tobacco companies are adjusting to the new legal landscape of vaping in Massachusetts.  We are seeing new, emerging products that are targeted at youth.  In part 1 of this webinar, find out about these products, what they do and what they look like, from a presentation by Mary Cole, of the Greater Boston Tobacco-Free Community Partnership.  She will also review how vaping has shown to complicate COVID-19 infections as well as discuss free cessation resources for those who want to quit.
In part 2, Stormy Leung, MSAPC's Project Coordinator will take you on a virtual tour of a mock teenage bedroom. Do you know where the drugs and alcohol might be hidden?  Are there clues here that might indicate drug or alcohol use?  Finally, she will share some prevention tips and resources for families.
Each webinar in the Milton Learns Together: Webinar Wednesdays series is approximately 30 minutes long with a question and answer period to follow. They are free and no registration is required. All of the webinars can be accessed by entering this address into your computer's or phone's browser: zoom.us/j/92433263470 and entering your name and email. The Milton Learns Together: Webinar Wednesdays May schedule is as follows:
The Milton Learns Together: Webinar Wednesdays May schedule is as follows: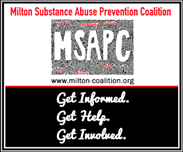 May 6th, 7:00 p.m., Jon Mattleman, Teens, Tweens, and Quarantines
May 13th, 7:00 p.m., Ivy Watts, There is No Health Without Mental Health
May 20th, 7:00 p.m., Stormy Leung and Mary Cole, Hidden in Plain Sight
May 27th, 7:00 p.m., Joanne Peterson, Addiction: Prevention and Hope for Recovery
For more information, please visit the Milton Substance Abuse Prevention Coalition website: www.milton-coalition.org