Milton High School to transition to remote learning, Oct. 27 – Nov. 9
The following letter was issued to MHS family, staff, and students on Oct. 26, 2020.
Dear Milton High Staff, Students & Families,
This message comes as a follow up to my email earlier today. Due to additional reported confirmed cases of Covid 19, Milton High School is temporarily transitioning to a fully remote model starting tomorrow October, 27th until Monday, November 9th with in person learning scheduled to resume on Tuesday, November 10th. Due to the positive cases of Covid 19 at Milton High School and the subsequent quarantine requirements of close contacts, we do not have the necessary staffing to safely keep the building open.
Below are a few logistical items that will guide our transition to a short-term remote model. Please note that the changes outlined below only impact students in the hybrid model. Students who have been learning in the remote choice model will continue to follow their typical schedule.
Daily Schedule:
We will continue to follow the four day rotation. Instead of hybrid students coming to school on their designated days of the cycle, they will log in for live synchronous classes at the times that they would have had those classes in school. On what would typically be students' at-home day, they will continue with the routine of completing asynchronous work independently. Afternoon remote classes will continue to meet on their designated days.
Remote Classroom Expectations:
Attendance in all live remote Google Meetings is mandatory, attendance is being taken and reported to administration for every period
Be on time for class and stay for the entire class period
Try to create a learning space where you will be free from distractions (put away your cell phone, turn off the television etc during class).
Have class materials ready and nearby before class begins.
Dress appropriately – no pajamas, no hoods; school dress code applies (see handbook for specifics).
Your icon should be school appropriate & represent you. We recommend a headshot picture
Your screen names must be your first and last name.
Mute your microphone unless you are talking.
 Indicate that you want to speak by raising your hand, using the chat, or the NOD extension (when available).
The chat will be used for class related discussion only, as allowed by your teacher
If you are having technical issues, contact your teacher via email or Google Classroom to explain the
circumstances.
All of the following cases will result in you being marked absent:

You never sign in to the Google Meet
You are signed in to the Google Meet but fail to actively participate in class
You are signed in to the Google Meet but leave the session or leave the computer for a significant portion of the class.
Four Day Rotation: The four day rotation for the next two weeks of school is outlined below.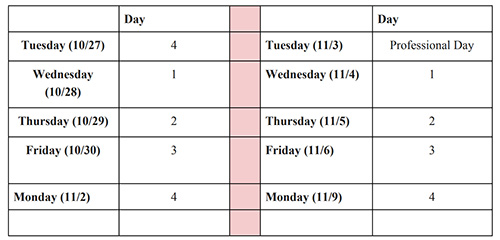 Bell Schedule: The bell schedule can be found HERE to ensure that students log in to their classes on the correct days at the appropriate times.
Sports: All practices and events are cancelled for tonight (Monday 10/26) and tomorrow (Tuesday 10/27).
Ryan Madden, Athletic Director, will communicate to all coaches when practices/events may resume. Pending close contacts, coaching staff availability, and risk of transmission, some sports may be able to proceed as scheduled starting as soon as Wednesday, 10/28. Golf will resume as scheduled tomorrow, Tuesday, 10/27. Please watch for communications from the Athletic Director and your child's coach tomorrow.
Clubs: All clubs/activities will also be fully remote so if you are currently enrolled in a club please watch for communications from your club advisors for upcoming meetings.
Students Checking MPS Email: In addition to being familiar with the expectations outlined above, I expect that all MHS students check their MPS email daily. Teachers use email to communicate personally with their students so checking email regularly ensures timely and efficient communication.
Food Services & Meals: Please see food services for more information.
Finally, I would like to reiterate that no school can combat this pandemic on its own. We all need to be vigilant in following the CDC's safety guidelines at home and at school in order to keep our schools open and safe.
Thank you for your partnership in keeping our students, staff, schools, and community safe so that we can continue to offer in-person learning.
Take care,
Karen J Cahill
Principal
Milton High School