YES for Milton announces over 270 endorsements in support of YES on 3
Milton – Over 270 Milton residents are urging their neighbors to vote yes on question 3 in the upcoming election as Milton voters are asked to adopt the Community Preservation Act (CPA), which will preserve open space, improve parks, playgrounds and athletic fields, preserve historic properties and identify solutions for affordable housing. Organizers of the Yes for Milton campaign have launched a website, sponsored town-wide mailings and conducted numerous visibilities throughout town in support of a yes vote.
Former Milton town administrator John Cronin said, "I have seen Milton make investments to preserve our historic assets like the Suffolk Resolves House, care for our seniors with affordable homes at Winter Valley and creating beautiful open spaces like Turners Pond. I have also seen Milton miss opportunities to improve our town including restoring our three historic Fire Stations instead of replacing them and that is why I am voting YES on Question 3 this fall."
Yes for Milton is a broad and diverse group of Milton residents from every precinct that have come together since September. The Yes for Milton committee is co-chaired by Carolyn Cahill from Precinct 1 and Joe Reardon from Precinct 7, with Kristine Hodlin from Precinct 2 serving as campaign treasurer. Milton and eight other communities are seeking to join 177 cities and towns that have already adopted CPA. Milton voters are being asked to support a modest 1% surcharge on the property tax with the first $100,000 in assessed value exempted. The average homeowner in Milton would pay $84 per year. Low and moderate income senior households and low income non-senior households would be exempt from the surcharge.
"Years ago when I was trying to buy a home in Milton, I had to settle on a "fixer-upper" to be able to afford a home," said resident Danya Raphael. "We need to offer a path to home ownership for people who live and work in Milton but can't afford to buy here."
Most of Milton's neighboring communities – Boston, Quincy, Braintree, Randolph, Canton – have adopted CPA. CPA funds are raised locally, spent locally through a transparent process that is approved by Town Meeting each year, and receive a state match that is expected to be approximately 25% next year. Proceeds are used for historic preservation, open space and recreation, and affordable housing. Passage of CPA ensures that Milton will receive matching funds from the state each year, funds that are collected at the Registry of Deeds each year but go only to CPA communities.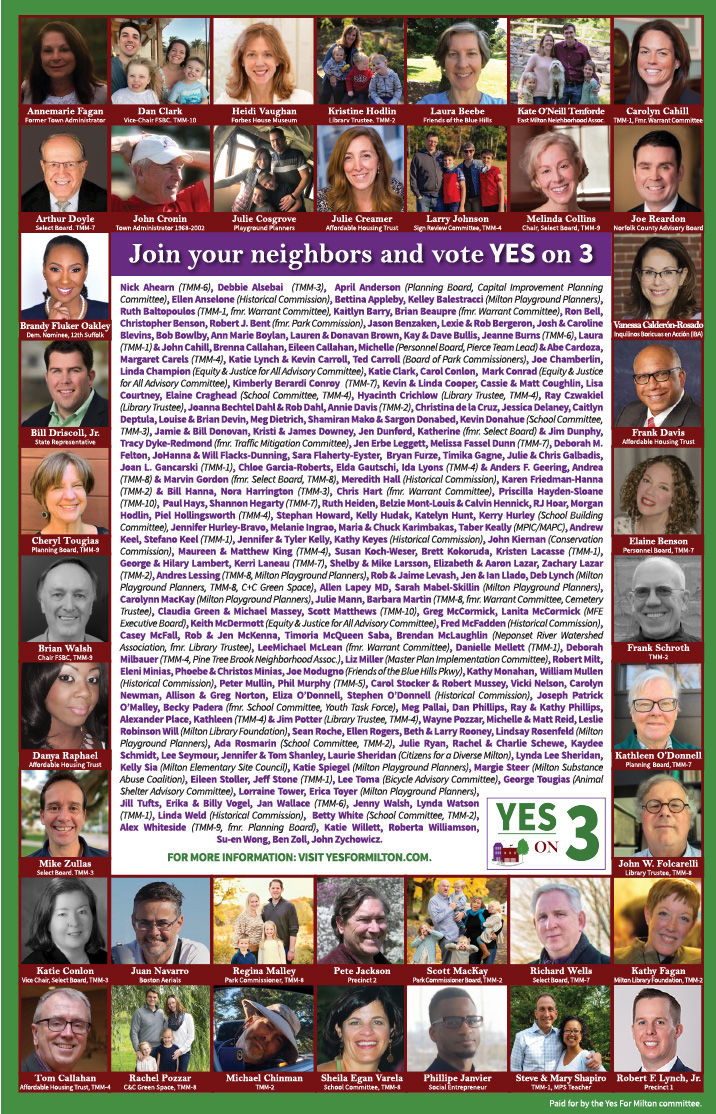 Visit YesForMilton.com for more information.