Milton Garden Path hosting live television event on Milton Access TV Nov. 23 to raise money for the Milton Community Food Pantry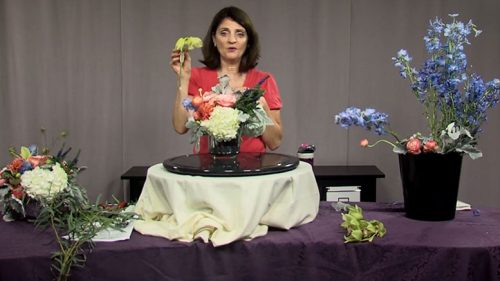 The Milton Garden Path is hosting a live television event on Milton Access TV to raise money for the Milton Community Food Pantry the Monday before Thanksgiving.
Christine Paxhia, host of the Garden Path and a professional floral designer, will go live on Milton Access TV for one hour at 7:00 p.m. on Monday, November 23rd, demonstrating how to create a floral Thanksgiving centerpiece, as well as interact via Zoom with participants who will have their own floral arranging kit to follow along and make their own personal centerpieces. They will be able to ask questions, and may even get to show their creations on live TV, if they so choose.
All proceeds from the event will go to the Milton Community Food Pantry, with about half of participants' $100 tax-deductible donation paying for the cost of the flower kit, which is chosen personally by Christine, and the remainder going directly to the food pantry.
Comparable retail flower arrangements can range from $100-300.
Christine has done a number of live floral arranging demonstrations on MATV, as well as for private clients, and she thought it would be a great way to raise money for a wonderful and vital cause.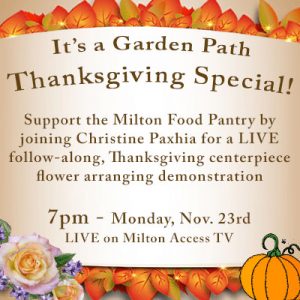 Many families will struggle to put food on the table this winter, with job losses and other issues due to COVID. According to the Feeding America organization, Massachusetts has had the highest percentage increase in food insecurity in the nation since 2018, at 59%.
REGISTRATION FOR THIS EVENT IS FULL…
But you can still watch, live!
Live event is 7:00 p.m., Monday, November 23rd, on the MATV Public Channel (Comcast 9/RCN 13). The number of participants is limited, so signups may be cut off before that date if capacity is reached.
That broadcast can also be live-streamed via the MATV Facebook page at https://www.facebook.com/MiltonAccessTV
A live stream of the MATV Public Channel can also be viewed at https://milton.vod.castus.tv/vod/?live=ch2&nav=live
Watch the promotional video for the event:
In addition to hosting The Milton Garden Path, Christine Paxhia is a Master Gardener, a professional garden coach via her business, Brush Hill Garden Guru, does floral design for weddings and other events, is a member of the Milton Garden Club, sits on a number of horticultural boards, as well as judges and organizes many horticultural competitions throughout the year.
Click here to see Christine's floral arranging video from September here.