Skylar perfumes – just in time for the holidays – A Milton Scene Random Review
I am kindof a sucker for having surprise things mailed to myself.
Because who doesn't love getting presents in the mail?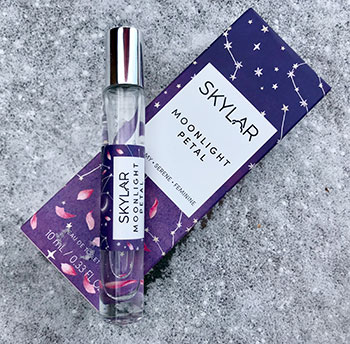 One of my latest favorites is the Skylar Scent Club.
Every month, the good folks at Skylar send me a rollerball of their latest monthly scent for $20, including shipping.
If I love it, I keep it – and if I don't love it, I send it back and they pay for the return postage.
You can only get these scents if you're a Scent Club member. Otherwise, you have to settle for their regular options, which are lovely as well. But since I delight in the surprise factor so very much, I haven't ordered any of their everyday scents thus far.
I've been a member for 12 months now, and I've kept 10 of the 12 rollerballs.
I always have the perfect scent to match my mood and occasion. And because they're rollerball size, it doesn't feel like an overwhelming commitment.
Suffice to say, I love their scents. They are great for popping into your purse or travel cosmetic bag, too, because they're nice and small.
My latest favorites are Pink Sky and Moonlight Petal.
Skylar Scent Club – as well as their a la carte items – are a fabulous gift option for that special someone, especially if you're just not sure what to get her!
Added bonus: Skylar's scents are hypoallergenic.
Click here to learn more about Skylar scents.
---
Contributed by Melissa Fassel Dunn.
*This post may contain affiliate links. I receive a small amount of compensation when you purchase from my links, which I'll totally blow on mint, limes, and rum.