Random Review: Havenly online interior design service adds fun, subtracts overwhelm!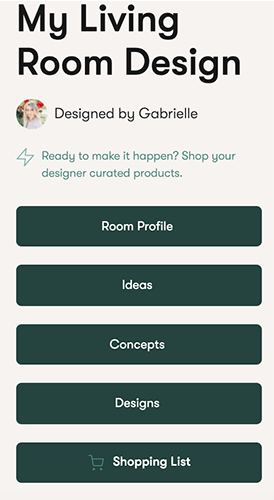 Looking to update a room or rooms in your home?
I've used Havenly several times to save me from indecision and bad mistakes!
Havenly is an online interior design service with a straightforward design process, which helps homeowners and renters alike feel less overwhelmed.
(Yes! They're great for also providing design advice for renters to make their home feel like home without too many permanent or costly changes.)
Here's how it works:
Room Profile Phase:
To get started, you simply go to Havenly.com* and choose the room you'd like to design.
You will then take a fun online quiz to better understand your design style – which may be modern, bohemian, farmhouse, coastal, glam, etc.
Even just taking the quiz is super fun to give you a better idea of what you like and what that style is called!
After that, you get to share any designs you love – for example, you might share a Pinterest board, photos of inspirational spaces that you love, etc.
Next, you'll be invited to share photos or video of your space… as well as room dimensions and any layout sketches you might have. You can also indicate what furniture you would like to keep, and what items you are hoping to purchase or replace.
Of course, budget is super important to all of us- and you can indicate your total budget for your, so that your designer can help keep your redesign in that range.
Once you are finished and based on your responses, Havenly will pair you with a professional designer, who will get in touch ]to learn more about your vision for your space.
You can check out the designer's work and if you think you're not a good match, you can switch designers before the project begins.
This is the time to share what's not working about your current layout, how you plan to use the room, color palettes you like most, patterns you prefer, furniture styles you gravitate towards, and much more. In lieu of a call, there's also an option to complete a design brief.
Ideas Phase:
After your designer has a good idea of your likes, dislikes, and the room, she or he will prepare three design concepts.
These were mine for my most recent project: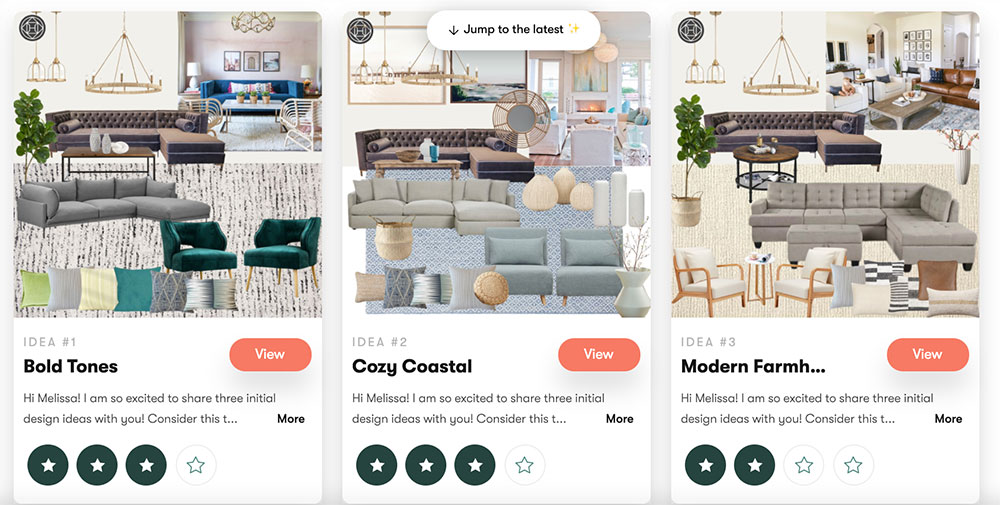 You then rate your concept, add additional ideas or suggestions, and then move on to the Concepts phase, where your designer will bring in elements of what you liked in the ideas phase to create a more solid concept.
Concepts Phase:
I really liked the bold tones as well as the coastal elements of the ideas my designer had put together, so she blended those into this concept: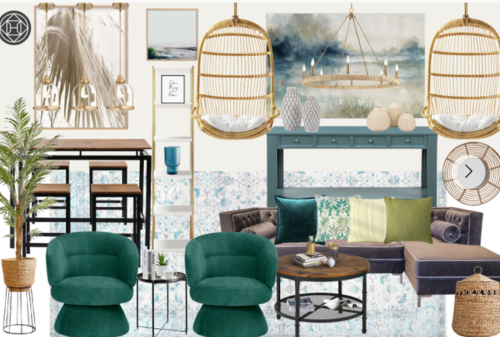 In this phase, your designer will also provide links to the items used in the design and you can rate the items, or add them to your shopping list. Oftentimes, Havenly gets discounted pricing if you order through them.
It's also a great opportunity for you to start doing some hunting/shopping of your own for items you like.
Design Phase:
Once you and your designer agree on the concept and key elements, like furniture, rugs, and accessories, you will get a final layout and 3D design with links to all items (and brands where they are sourced) for easy purchase.
These were my final designs: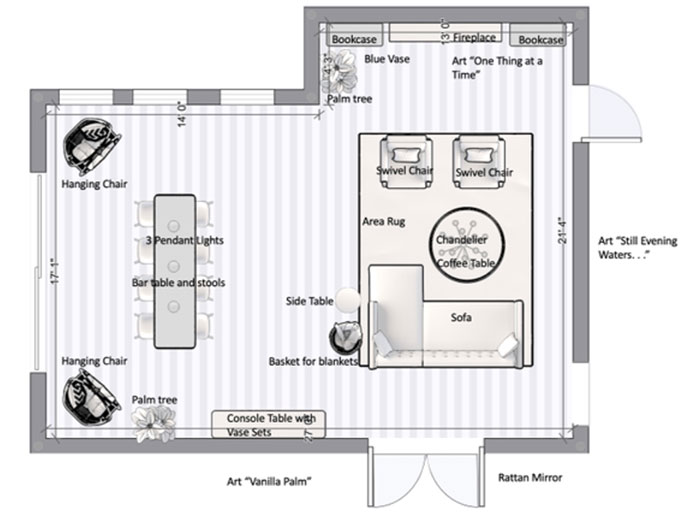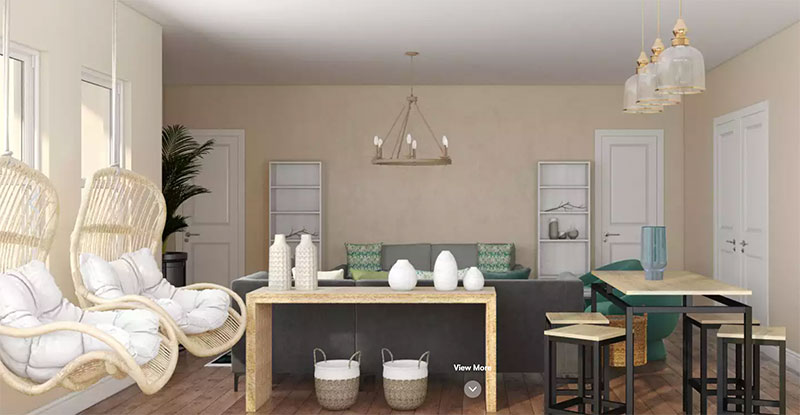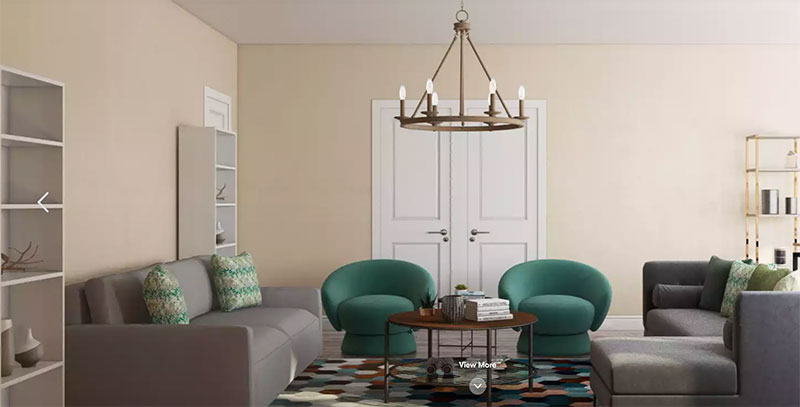 Communicating
You currently have the option of communicating via a messaging system on their platform (you also get email and text notifications), a phone call, and/or a video call. I found the messaging system to be pretty flawless.
For example, when I received a message from the designer, I was notified via text as well as email. I could also log in and see the messages.
I then had the option to respond in kind – either via text, email, or logging in. I love this because sometimes you just don't feel like logging into a website!
Save $50 now!
*Use this link to get $50 off a full package or $20 off a mini package today.
Why I love Havenly
It helps me to better understand my style.
I don't waste time purchasing things that I ultimately return.
They give me room layouts and ideas that I would have never thought of myself.
I can purchase everything online.
They work with my budget.
The design stays in my profile forever.
I'm not an interior designer!
Prefer to hire a local designer?
Check out our list of recommended interior designers.
*This article contains affiliate links, which means I make a small commission, while you also save money. We both win!