Custom Easter baskets from the Nutshell now available!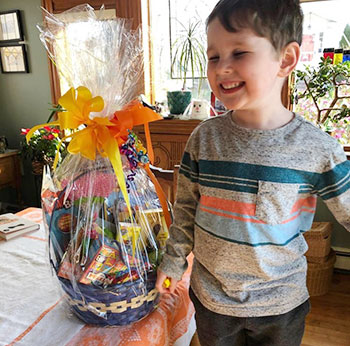 Back by Popular Demand…..CUSTOM Easter Baskets!
From what was our only lifeline during the COVID lockdown of 2020, The Nutshell and Toy Chest's CUSTOM EASTER BASKET business has Exploded!
Back by popular demand this year – let us be your personal Easter Bunny!
We were absolutely BLESSED by all of the orders when we were closed in 2020, and thought it would only be desired for that 1 year, but much to our surprise, customers began asking at Christmas if we would be making the Easter baskets again!
So – YES – we are! It's very simple.
Let us be your Easter Bunny.
Simply Call the store at 617-698-7273 or come in and place your order. Our knowledgeable staff will ask a few questions and grab the following information:
Name of Child
Age of Child
Interests
Favorite Color
Your Budget – Baskets begin at $35 and we are happy to work with what you are comfortable with
Our staff will personally "shop" for your child's basket in the store and create a fantastic basket just like the Easter Bunny would – WITHOUT THE HASSLE and STRESS for YOU!
Baskets are available for IN-STORE PICKUP or DELIVERY is available.
Don't worry yourself with thinking about WHAT your will fill the basket with, ordering online or driving to multiple stores to gather items, trying to find the basket in your attic, and then wrapping it all up. Treat yourself and Make it easy!
CUSTOM EASTER BASKETS – WE HAVE YOU COVERED – BUT CALL TODAY!!!
We sold out last year and we are on target to sell out again! Don't Delay!
Deadline for ordering is April 10th.
Here is how to shop with us: