What are we discussing? Top Milton Neighbors posts – August 2022
Wondering what the top Milton Neighbors posts for were this past month?

We've summarized the top posts for you from the past month.
"I wouldn't normally post something like this, but I figure it's worth it in the off chance it reaches the parents…."
"What's the answer? 16 wheeler double parked for 15 minutes as traffic is backed up on both sides…"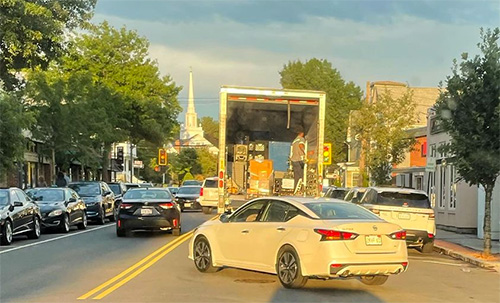 "I was surprised to see East Milton Starbucks isn't opening yo 8am everyday. It is hard to believe they can't get the bare minimum of 2 employees to open. It is frustrating to park and walk up to see the sign, but it must be equally frustrating for the owner not to find workers.
Good news Broadway Stsrbucks in SB has change their hours to 4:30am weekliy and 5am weekends." [sic]
"State and town officials call this progeess and an improvement. Businesses and residents call it dangerous, a complete waste of money and has made East Milton far worse" [sic]
"Wanted to bring this to everyone's attention, especially young women in the area!!!!!!
My two female friends and I were at the CVS in east Milton at around 830pm last night. As we were checking out, a group of 8-10 middle school or early high school boys starting making lots of super inappropriate comments towards us. We felt pretty disrespected and uncomfortable and tried to tell them we're a lot older than them and to leave us be. We began to walk out of the store only to have them start throwing handfuls of change at us, which did hit my friends! We tried to walk away from the situation but they then followed us to our vehicle and chased it as we pulled out of the lot and down the road. I'm literally appalled at this behavior and it saddened me to see this younger generation treating women like this, or anyone for that matter. If this could potentially be your child I'm hoping this behavior can be addressed so that everyone can feel safe in our town."
"Was anyone else shocked by their most recent electric bill under the new Milton consortium scheme? Mine was literally 300% higher than last month with little if any change in usage."
"Hi Neighbors! I've emailed the town clerk but have not received a response yet. Is anyone knowledgeable on how we could change polling locations for elections? I think we are past the time of using schools as locations with the number of violent incidents happening across the country and I'd like to investigate alternative solutions. Using the schools impacts the academic continuity of the children and staff in addition to heightening anxiety. Thanks for any ideas! I'm happy to work on solutions to propose."
"PSA. Your neighborhood cat rescuer here : if you don't want your cat to die, please keep it inside. There is an uptick of missing cats recently in Milton and several that were 'found' were actually remnant corpses. You don't see that part posted on Facebook so I thought I'd let you know. This can happen at any time of day. I'm not trying to spark a debate about all the reasons why you should/shouldn't let out your cat, I'm just trying to warn people who currently allow cats outside."
"Just want to send out a warning…my beloved cat and at least one other I know of was attacked and killed by an animal/most likely a coyote in the past week. I am on Houston Ave and I believe the other was around pleasant st. Keep those kitties inside…"
"Did you know you can go on Zillow and find out what your neighbors owe on their mortgages. I am floored. How do they get this confidential financial information.? Why not just add how much cash I got in the bank. Something is wrong here."
---
Milton Neighbors is the 13,000+ member social media group connected to The Milton Scene.
In August 2022, the group had
420 Posts
2,095 Comments
5,551 Reactions
Monday was the most active day in Milton Neighbors this past March.