It's dark out. Protect your pets with this light up collar – Random Review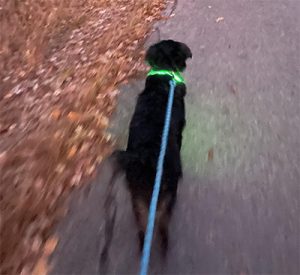 It's that time of year again.
It's dark.
So dark.
As you try to embrace the coziness of the end of Daylight Savings Time, you might also consider ways of keeping that covid puppy safe on your evening walks.
Enter the light up dog collar.
I bought one for my lovable Ozzy dog, and I feel so much better walking him, particularly on streets without great sidewalks.
It's always good to stand out at night and the collar is eye-catching because we are also "in motion." (Well, unless he's doing an intense leaf sniffing.)
Anyway, Ozzy and I are both fans of the Domagiker Light Up Dog Collar.
It's rechargeable (comes with USB cable)
You can easily size it by cutting off the excess collar material with scissors
Goes on easily – can be put on over other collars (not meant to secure a leash)
Your pooch will look super cool
Ozzy likes his green collar, but they also come in blue, red, pink, and orange.
I hope you enjoyed this review!
*This article contains affiliate links. This means when you use them, I may get a small commission, but you do not pay any additional amount. I use these small commissions to buy treats for Ozzy.