Need mortgage help? John Hellmuth offers great rates, excellent service, and is local & responsive.
The Milton market can be tough for buyers. Prepare in advance by getting in touch with John Hellmuth!
From finding the best rates and lowest fees to completing applications and closing the loan on time, mortgage brokers know the experience of getting a mortgage intimately. Working with a mortgage broker to help you navigate today's market can be a smart move, especially if you're a first-time home buyer.
When you're looking to buy or refinance a home, a mortgage broker is a valuable addition to your team. They can help you navigate the twists and turns of the market, find the best loan rate for your situation, and make sure your mortgage application goes smoothly.
Whether you're buying, selling, refinancing, or building your dream home, you have a lot riding on your loan specialist. John Hellmuth will help you every step of the way.
"John got us a great rate and made the process easy. Even the person from the lawyer's office who came to do the closing was impressed by the rate and the low costs. She hadn't seen anything like what we got in all her recent closings. John was also very responsive and kept us up to date on the status of our application. I had a few questions late one evening. I didn't expect all the answers that late, but he came back with the answers and a spreadsheet with some analysis he had done for us. It worked out great for us. Thanks!"  – Mike J. Westwood
Since market conditions and mortgage programs change frequently, you need to make sure you're dealing with a top professional who is able to give you quick and accurate financial advice.
I have the expertise and knowledge you need to explore the many financing options available.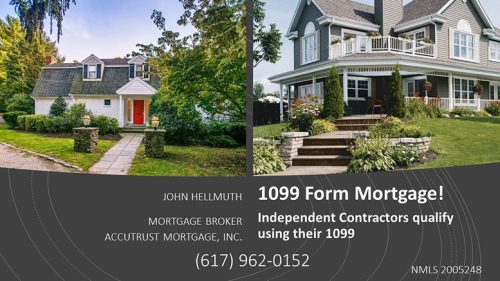 Ensuring that you make the right choice for you and your family is my ultimate goal. And I am committed to providing my customers with mortgage services that exceed their expectations.
I hope you'll browse my website, check out the different loan programs I have available, use my decision-making tools and calculators, and apply for a loan in just four easy steps with the short form Application.
After you've applied, I'll call you to discuss the details of your loan, or you may choose to set up an appointment with me using my online form. As always, you may contact me anytime by phone, fax, or email for personalized service and expert advice.
Contact me for more info:
John Hellmuth, Accutrust Mortgage, Inc.
214 Edge Hill Rd Milton Massachusetts 02186