2023 Eid- Ul-Fitr huge success for Muslim Milton Neighbors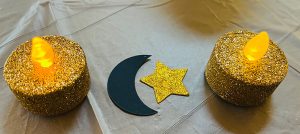 Eid- Ul-Fitr, the first of two official Muslim Holidays marks the end of Ramadan for many Muslims around the world. It is a culmination of a one month of fasting and worship and is often associated with great happiness, treats and friendship. To many, it also involves a giant cup of coffee and really good food!
This year, it began on the evening of April 21st 2023. The Muslims in Milton added bowling to the agenda and celebrated it at the end of April with some of their sweetest neighbors. Fun was to be had by everyone! It started off with a small speech, food and a cute performance by our team of young volunteers and ended with bowling and more dessert- lots of it!
Eid Ul Fitr translates to "The Festival of fast- breaking" and the hallmark of this celebration is gratitude, gratitude for the ability to fast and to give. We are grateful for good health and the food that we eat. We are grateful for people who make this neighborhood a better place. This year we are also grateful for the ability to share this with our neighbors. We celebrated a successful food drive which resulted in multiple pounds of food delivered to interfaith social services. The joy of sharing this with our neighbors in need was beautiful.
Thank you to all our neighbors that donated!
We were also grateful to be able to share the lights at East Milton Square with our neighbors- we have received many messages indicating it has been a source of joy for many. Thank you to all the people who have contributed to this effort- from moral support to the lovely town workers – who installed them on some of the hottest days this spring. Most of all, we are grateful to live in this lovely town and this great community where everyone can find their place and feel welcome, no matter who they are or where they come from.
-Contributed by Hoda Eltomi, MD.