Guide to essentials items for a fun & easy summer
Summer essentials all families need
With the arrival of summer, families all around the world are eagerly planning their vacations and outdoor adventures. To make the most of this delightful season, it's important to equip yourselves with the essential items that will ensure a fun and enjoyable time for everyone. Whether you're heading to the beach, exploring a new destination, or simply spending time in your backyard, these five essentials will help you create lasting memories and make the most of your summer.
1. Sunscreen and Sun Protection Gear:
As the sun shines brighter during the summer months, protecting your family's skin from harmful UV rays becomes paramount. Make sure to stock up on a high-quality sunscreen with broad-spectrum protection and a high SPF rating.
For the kids, I'm a huge fan of  Blue Lizard sunscreen. It goes on thick, is zinc-based, and has been the best for burn-protection in my family. Plus, they have new Blue Lizard sunscreen sticks, which make application on the face super easy.
For my face, I really like All Good's coral-reef-friendly zinc-based tinted sunscreen. It prevents that ghost-like appearance and has a very neutral color, which I think would suit many different ranges of skin color (I am pretty pale, for example, and somehow, I don't look orange using this):
Additionally, invest in sun protection gear such as wide-brimmed hats, UV-blocking sunglasses, and lightweight clothing that covers the skin without causing overheating. Prioritizing sun safety will ensure that your family enjoys the outdoors without the risk of sunburns or long-term damage.
For women, this is a great sun / beach hat because it has a detachable strap for those super windy days (plus, it fits… ahem… larger heads, like my own):
Don't forget to get your kiddos a good quick-dry bucket hat (or three, for when they disappear):
UPF swim shirts are fantastic for those dudes who refuse to wear sunscreen and *always* end up with a lobster-red back. This Speedo UV swim shirt comes in 17 colors and five sizes:
2. Portable and Waterproof Outdoor Speakers:
Music adds an extra layer of enjoyment to any summer gathering. Whether you're hosting a backyard barbecue, camping trip, or beach day, portable and waterproof outdoor speakers are a must-have. Look for speakers that offer good sound quality, long battery life, and durability to withstand outdoor conditions. With wireless connectivity options, you can easily stream your favorite tunes from your smartphone or any other compatible device, providing a lively ambiance for your family's summer adventures.
Every family needs a JBL speaker. I love the JBL Charge speakers because they're large enough to supply music for an outdoor party (they're also great for those of you who like to listen to music in the shower!).
Their charge lasts forever, and they are truly waterproof and super tough.
3. Outdoor Games and Sports Equipment:
Engaging in outdoor activities not only promotes physical fitness but also encourages family bonding and friendly competition. Have a variety of outdoor games and sports equipment on-hand to keep everyone entertained throughout the summer. Frisbees, soccer balls, badminton sets, and water toys are just a few examples of equipment that can provide endless hours of fun. These items are lightweight, easy to transport, and perfect for creating memorable moments at the beach, park, or even in your own backyard.
This LED Cornhole set is so much fun and extends your playtime into the evening:
My kids absolutely love these easy-to-fill pack of 420 water balloons, for hours of fun:
4. Coolers and Picnic Supplies:
Picnics and outdoor meals are synonymous with summer, and having the right equipment ensures that you can enjoy fresh and delicious food while on the go. Invest in a sturdy cooler with excellent insulation capabilities to keep your beverages chilled and your perishable items fresh. Opt for reusable picnic supplies like eco-friendly plates, cups, utensils, and napkins to reduce waste. Additionally, don't forget essentials like a blanket or portable chairs, a waterproof picnic mat, and a bottle opener. These items will enable you to create a cozy and comfortable dining experience wherever you choose to venture.
I personally love a good backpack cooler, and even better if it has wheels.
This Arctic Zone cooler comes in five colors, and can be used as a backpack or a rolling cooler.
One of its five star reviews: "Great cooler for long road trips! We took this on an 11-hour family trip (in the minivan) and it was perfect for drinks and cold snacks. The cart is a bonus and we love that the cooler can easily be used/carried without. Very happy! Especially considering the price."
Got a ton of stuff? Get family a collapsable beach wagon (these are super handy for sporting events and Halloween trick or treating!):
Also, no beach visit is complete without a Tommy Bahama beach chair. Seriously, just invest in one (or several) of these. They last for many years, fold down fully, and there really is no substitution for the cooler pocket in the back, the cell phone pocket, or the cup holder:
These beach blankets are great because they're lightweight, tough, washable, and quick-drying. I've had this one since 2020 and it's still in perfect condition:
Note of warning: maybe don't match your bathing suit to your beach blanket, like I inadvertently did…?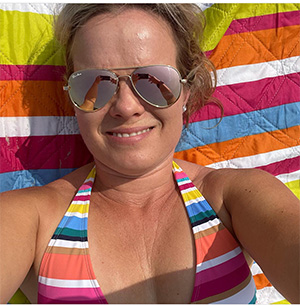 (Also these sunglasses are awesome. I basically eat sunglasses, and refuse to spend more than $25. The above sunglasses cost around $12 and come in 29 different color and metal combinations.)
5. Water-Related Essentials:
Summer and water activities go hand in hand, whether you're hitting the beach, visiting a water park, or simply cooling off in your backyard pool. To maximize your family's enjoyment of water-related activities, ensure you have a few essentials on hand. Pack inflatable rafts, beach balls, and water toys for added fun in the water. If you plan on spending time at the beach, consider investing in beach umbrellas or sunshades to provide a shaded retreat from the sun.
These hammock seats are a huge hit in my family. They are made of a nice cloth-like fabric and can be used in pools as well as oceans, lakes, etc. They also require minimum blow-up effort:
Another easy-to-blow-up-swim toy, which is especially awesome for vacations since they are inexpensive and pack small:
Got a toddler? Don't forget these incredible Puddle Jumper swim vests, which were a staple in my family from about ages 2-5 and come in a variety of designs:
Don't forget to pack beach towels, water shoes, and a waterproof phone case for added convenience and protection.
Try one of these new sand-free beach towels if you'd like something lightweight and quick-drying. They come in a ton of different colors and fit really well inside the Tommy Bahama beach chair pocket, too!
I also love my Turkish beach towel. It can multitask as a towel, scarf for chilly airplane or restaurant visits, or a blanket. This one comes in seven different colors and is infused with aloe vera:
As summer approaches, it's time to equip your family with the essentials that will enhance your summer experiences. Sun protection, outdoor speakers, games and sports equipment, picnic supplies, and water-related essentials will ensure that your summer is filled with fun, safety, and unforgettable memories. By investing in these five essential items, you'll be well-prepared to make the most of the warm weather and create cherished moments together as a family.
So get ready to embrace the joys of summer and enjoy every sun-kissed adventure that comes your way!
This post contains affiliate links. This means if you click on them, I may earn a small commission, but you will not pay anything extra.