Another Facebook marketplace scam – asking for your phone number
Last week, I got a text from a friend:
"Has buying/selling stuff online just become exponentially creepier?"
My friend posted a couple of items on Facebook Marketplace and within 20 minutes received a variety of texts immediately asking for her phone number: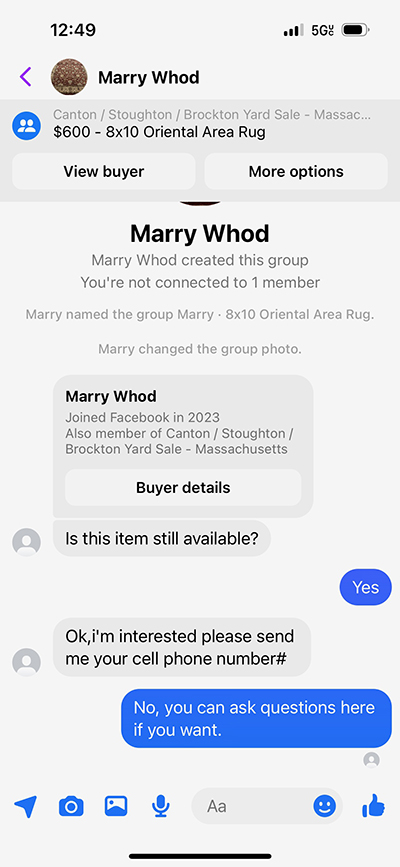 In today's fast-paced digital landscape, online marketplaces have become powerful tools for individuals seeking to maximize profits and declutter their lives. Who doesn't want that? By leveraging the potential of platforms like Craigslist and Facebook Marketplace, sellers can tap into a vast pool of potential buyers, turning their unwanted items into extra cash. However, in the name of "a few people ruining for everyone," as technology advances, so do the tactics of malicious actors looking to exploit unsuspecting sellers.
It is crucial for sellers to stay informed about the ever-evolving strategies employed by scammers. And wow, does this get tiresome!
One recent trick involves a seemingly innocent request for phone number verification. As sellers post their items, they may receive immediate interest from prospective buyers. These "buyers" appear genuinely enthusiastic about the listed items but insist on verifying the seller's legitimacy first.
To do this, they ask for the seller's phone number, and after the phone number is given, they text with an explanation that a verification code will be sent via text. All the seller needs to do is reply with the 6-digit code on the platform where the item is listed.
Innocent, right? NOT.
While this scheme may appear reasonable on the surface, the reality is far more insidious. Unbeknownst to the seller, the scammer is cunningly establishing a Google Voice number linked to the seller's phone number. Once the seller complies and sends the verification code, the scammer gains access to complete the account setup, thereby utilizing the victim's phone number to shroud their true identity.
Worse yet, if the scammer manages to obtain not just the Google Voice verification code but other personal information about the seller, they could assume the seller's identity and perpetrate various fraudulent activities.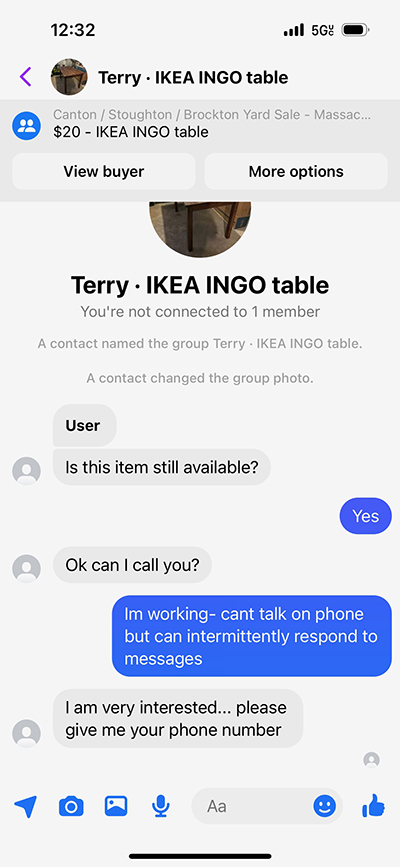 The call for awareness: A seller's best defense
In this digital age, the need for vigilance cannot be overstated. To protect oneself from the ever-looming threat of online marketplace scams, sellers must take proactive measures.
Conceal personal information 🤐: Sellers should never be quick to divulge their phone numbers. It is entirely unnecessary for a legitimate transaction on any online marketplace. Before sharing any sensitive information, sellers must verify the identity and intentions of the potential buyer.
This one is my favorite: Don't ask for my phone number.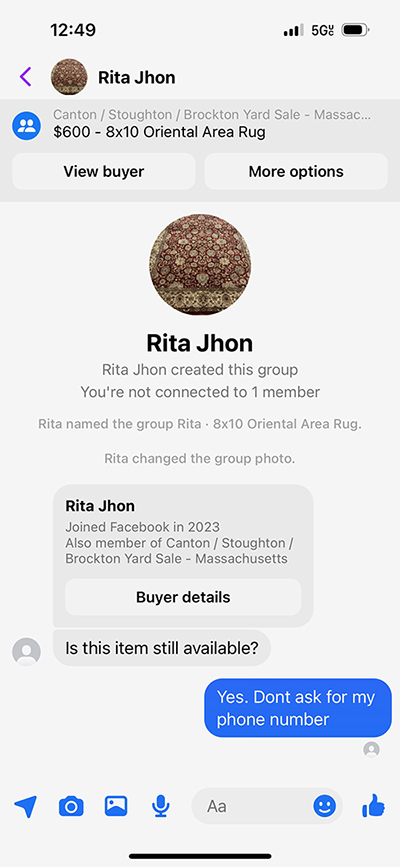 Recognize red flags 🚩: Sellers must be alert to signs of potential scams. Offers that sound too good to be true – such as buyers overpaying for an item, sending another person to pick the item up, or pressuring sellers to close deals hastily – should be met with suspicion.
Comprehend marketplace policies: Understanding the rules and guidelines set by online marketplaces is vital for safe selling. Most reputable platforms discourage transactions outside their ecosystem. Sellers should abide by these policies to minimize risk.
The digital world offers an abundance of opportunities for sellers to flourish, but it also harbors hidden dangers in the form of scammers seeking to exploit unsuspecting individuals. By arming themselves with knowledge and adopting cautious strategies, sellers can protect their personal information and financial well-being, ensuring a rewarding experience within the vast realm of online marketplaces.
Cliffs notes:
Don't give out your phone number to marketplace strangers!