The Carpet Workroom: Transforming homes with custom, designer carpet flooring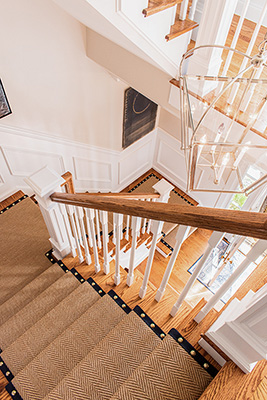 The Carpet Workroom is a name synonymous with custom, designer carpet flooring in the New England region and the Northeast. Whether it's the cozy comfort of an area rug, the elegance of a stair runner, or the luxury of wall-to-wall carpeting, their team excels in crafting and installing carpet flooring that transforms living spaces.
What sets them apart? The answer lies in their founder's dedication to the art of delivering quality carpeting, their commitment to customization, and their love for working with customers to bring their creative visions to life.
A legacy of craftsmanship
The story of The Carpet Workroom is a tale of passion and dedication that began over four decades ago. Founder Peter Lovetere embarked on his journey in the carpet and rug industry as an apprentice, where he quickly realized that selling carpet was one thing, but delivering a meticulously crafted product was an art. With hard work and determination, Peter fulfilled his dream of owning his own carpet store in Needham, Massachusetts. Today, he works alongside his family, infusing their business with a personal touch that sets them apart.
Customization as a hallmark
What truly distinguishes The Carpet Workroom from typical carpet businesses is their ability to customize, fabricate, and install custom carpeting projects. Precise measurements and meticulous craftsmanship define their approach, allowing homeowners and interior designers to achieve a truly personalized look for their projects. Additionally, their extensive selection of high-quality carpet styles offers customers a wide range of options to create their dream flooring or carpet project.
Celebrating customer creativity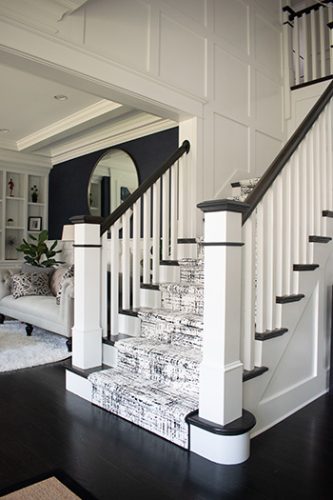 The team at The Carpet Workroom loves the creativity that their customers bring to the table. Each project is a unique collaboration where customers have full control over personalizing their custom carpet project. This individualized approach aims to transform houses into homes. The joy of seeing the final project installed in customers' spaces and sharing it on social media, particularly Instagram, adds to the satisfaction of their work.
Customer favorites
Among the services and products they offer, stair runners and custom fit rugs consistently draw the most attention. These solutions allow customers to enhance their spaces without completely covering up existing flooring. With a selection of styles and edge finishes, The Carpet Workroom crafts and fabricates custom projects that seamlessly fit into any given space.
Carpet remnants with a cause
A nod to their roots, The Carpet Workroom maintains a collection of carpet remnants, a testament to the ever-evolving nature of their offerings. What makes this collection special is that a portion of the proceeds from carpet remnant sales is donated to charitable causes. Purchasing a remnant not only beautifies a home but also contributes to the betterment of the community.
The best part of the business
For The Carpet Workroom, the most rewarding aspect of their business is bringing people's homes to life and helping them realize their dream home. Their close engagement with local communities and diverse clientele enriches their experience, and being a family-owned business adds a warm, personal touch to their services.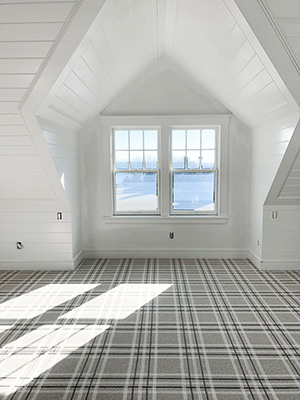 Why the New England region
Establishing their business in the New England region was a strategic choice. Communities like Milton are filled with stunning homes and spaces that can benefit from the stylish and functional advantages of carpeting and custom carpet flooring.
The Carpet Workroom is more than a carpet store; it's a hub of creativity and craftsmanship. With their dedication to customization, a wide range of styles, and a commitment to giving back, they have firmly established themselves as a trusted partner in transforming living spaces. If you're looking to turn your house into a home with custom carpeting, The Carpet Workroom is where your creative journey begins.
Visit their showrooms
The Carpet Workroom has showrooms in Stoughton, Needham, and their newly opened gallery showroom in Newton, MA at Home Design Place on 230 Needham St. While walk-ins are welcome for style inspiration or browsing, for a dedicated, one-on-one experience with a project manager, it's advisable to book an appointment ahead of time.
Get in touch
Web: www.carpetworkroom.com
Phone: (888) 388-9248
Facebook: facebook.com/thecarpetworkroom
Instagram: instagram.com/thecarpetworkroom
Pinterest: pinterest.com/thecarpetworkroom