Contributed by Eliza Wagner Srestha, ES Tutoring & Consulting.
Off to a great start with back to school study strategies
As the slow days of summer give way to back­-to­-school shopping and earlier sunsets, use these strategies to help your child establish productive routines and solid study skills from the start.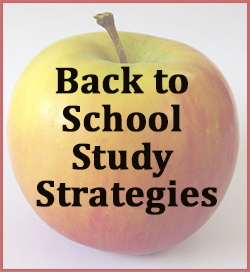 Set up structure. ​Good study habits start with consistent routines around homework. Help your child set up a physical space free of distractions to do homework. This can be a desk in a bedroom or sprawled out on the living room floor. What matters most is that it is a space where your child is comfortable and will not be bothered by television and other distractions. Try to support a regular "homework time" as well. It does not have to be the same time every day, but having a couple of hours of designated, distraction­-free time for homework as part of the family routine will help your child develop consistent study habits.

Model good habits. ​Set aside your phone and sit down and get to work right along with your child. Pay some bills, read the newspaper, plan meals and menus for the week, or read a book for pleasure. It doesn't matter what you are doing but that you are also doing your "work" during the same designated time­­and even in the same distraction-­free space­­as your child.

Be engaged. ​Show interest in what your child is learning. Ask open­-ended questions that cannot be answered in one word (i.e. "Tell me about what you are learning in Science," or "Can you read me a paragraph from your English book?") If you have concerns, try to avoid making accusations or assumptions when speaking with your child. Continue to ask open­-ended questions, and frame advice as suggestions or choices rather than directives. Communicating regularly with your child's teachers is especially important if you have questions or concerns about your child's academic progress.

Reward and incentivize. ​Help your child remember to take regular breaks, and get active together! Do some yoga or stretching, go for a short walk, make a snack, etc., and then help your child settle back in to continue his or her work. Also plan fun activities to do together when all homework is done. Remind your child of these planned breaks and rewards (i.e. "When you finish your history reading, let's take a break and kick the soccer ball around," or "When you've finished all your homework, we can make some cookies together.")

Be patient.​ Take some deep breaths and remember that study skills and organization develop over time, with practice and maturity. Don't expect dramatic changes overnight! Look for and praise small improvements and keep encouraging and modeling good habits. Also, know that your child IS watching, listening, and hearing what you say, even if it does not seem that way. Trust that everything you are trying to impart is getting absorbed on some level (often filed away for later!), and stay involved in supportive and encouraging ways.
About our Education Expert:
Eliza Wagner Srestha, Founder and Director of ES Tutoring & Consulting, is a former English teacher at Milton Academy and currently works with middle and high school students and consults with schools and nonprofits in the area. Her fall classes are enrolling now, and she will also be running a free study skills workshop for parents and teens at the Milton Public Library on Saturday, September 19th. For more information, please visit www.estutoring.com or email [email protected] to set up a consultation.